Introduction
Tasmanian Tiger (TT) is well known for its high quality backpacks and those of you who follow my blog, know the wide range of packs TT is offering. Especially in the segment of 12l to 30L there is a wide variety of products to choose from.
The TT Modular Daypack XL is one of them. Being a descendant of the famous Essential pack, it is a versatile everyday pack for EDC use. Reason enough to take a closer look at it and share my experiences with you.
---
Overview
I will be short about layout and specs, since this kind of information can be read about on the official homepage of TT. To give you an overall idea, I will give you the hard facts before diving into my personal observations.
Having a total volume of 23l, the pack is meant for short term or every day use. It features a main compartment with laser cut MOLLE combination with velcro (2 panels with 2×9 rows/channels).
The inside also features a big compartment to the inner front to separate content. One D-Ring to the inner center front, as well as two on the upper left and right corner give the user additional options to attach and secure items. There is an obligatory opening to the outside for hydration tubes, or cables, but no loop or velcro tab to mount a hydration bladder.
The front is covered with laser cut MOLLE slits (5×6 channels/rows + 3×1 below). There is additional MOLLE on the sides (2×3 channels/row).
The TT Modular Daypack XL features two extensive compression straps, which are detachable and routed through buckles all the way around to the front.
Two Front pockets allow for further organization of your EDC items. One bigger zippered compartment right below the velcro panel for Insignia/morale patches, plus a smaller, more inconspicuous one to the lower front. This one is way smaller and hidden behind one of the compression straps.
Coming to the backside of the TT Modular Daypack XL, it is worth taking a closer look at the Thermo Mold System of TT. In pictures it always looks like a hard plastic system. In reality it is a nice padded backside.
The shoulder straps are contoured and feature D-Rings to route cables or hydration, or simply to attach other items. Buckles at the bottom give the user the option to attach a 2,5cm/1" webbing as hip belt. While this type of webbing is not part of the delivery, a decent sternum strap is of course.
---
Manufacture
The level of quality is high level, as always. Tasmanian Tiger is well known for its high standards in quality control and this pack is no exception. Besides the high quality materials like Cordura fabric, YKK zippers and WJ buckles/hardware, the manufacture itself is flawless.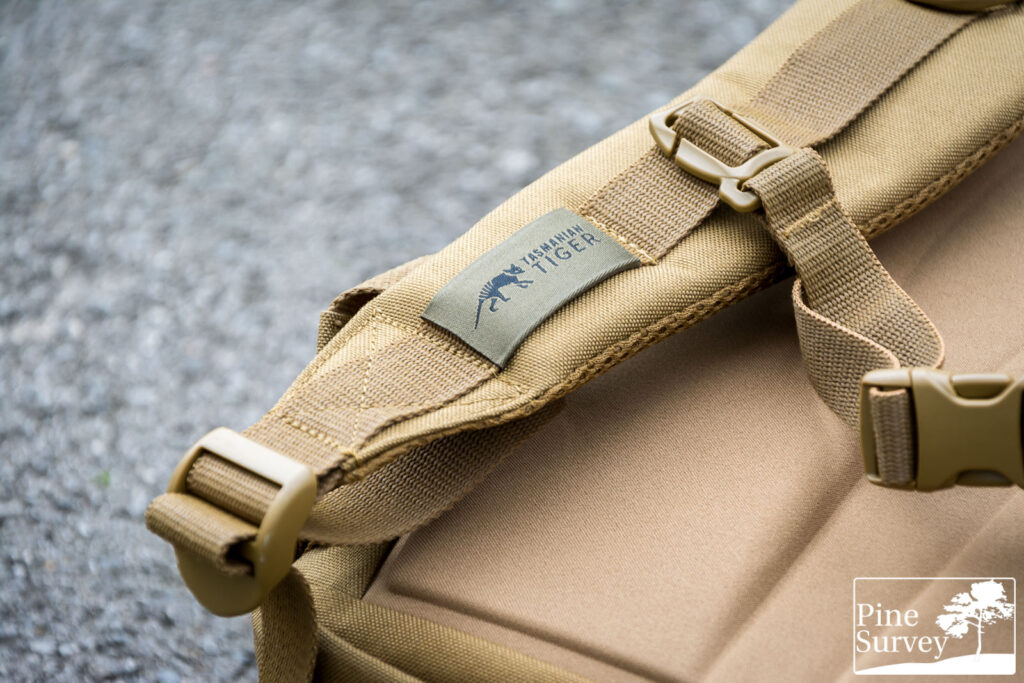 Straight and tight seams, no loose threads and a clean overal finished look. Stress points are reinforced with bartack stitches and webbing is always secured with added stitches.
---
In Use
When it comes to my personal experiences, I have to admit that the TT Modular Daypack XL surprised me more than once. Looking very basic at first sight, one tends to underestimate the volume of the pack.
Because of the large main compartment I was able to fit much more items into this pack than into other packs with comparable size. The "less is more" approach pays of in this regard and the available compartments gave me enough options to distribute my EDC gear, or essentials in a sensible way.
I have come to appreciate the lower front compartment, which is good for hiding items, since it is placed behind the lower compression strap.
The two compression straps are also a very useful and interesting concept when it comes to this pack. Making them detachable was a good call by TT, giving the user more options on how to use the pack.
Personally I am not yet sure if I like the fact that the compression straps are laced through a second buckle to the front. From a design point of view it makes sense, obviously: providing a clear angle for the webbing and keeping it from slipping. At the same time it is in the way if you want to fully open the pack.
However, if you open up the buckles of the straps, the main compartment opens up wide enough. In a way this is a matter of personal taste and so far it was of no bigger concern to me, only a detail that I encountered and wanted to share.
An issue which is common to Tasmanian Tiger's smaller backpacks are the shoulder straps though. While being perfectly contoured and comfortable, they are not ideal for taller and bigger users. Me being 1,80m tall I find myself on the limits of the straps. As a result the sternum straps rides quite high – so this has to be kept in mind, when looking at the TT Modular Daypack XL.
When it comes to comfort, there is no room to complain. During hikes and everyday use, the TT Thermo Mold System provided a very comfortable carrying experience. When fully packed, the backpack tends to round up a bit, since there is no frame sheet in the back, but this is not a big issue.
Another minor detail I have noticed is the angular cut of the pack on the top. While giving the backpack a very distinctive and cool look, the zipper tends to snag a bit on the corners, during the opening/closing process, which can be annoying sometimes.
---
Conclusion
Coming to an end it is worth pointing out that the TT Modular Daypack XL is kind of a hidden champion. The pack can handle more than one expects from it, giving the user not only plenty of options to distribute everyday items, but also several ways of expanding the pack as well. With plenty of MOLLE and velcro surfaces available, the user can further optimize the pack to his/hers personal needs.
Given the high quality of manufacture and versatility of the TT Modular Daypack XL, this is certainly a long time companion for everyday errands up to professional engagements – military or civilian.
With that being said, I want to thank Tasmanian Tiger for making this review possible. Many thanks to my readers as well – I hope this article was worth your time and some kind of help.
Until next time – take care!
---
PS.: Please consider supporting the blog – thank you!