And another review by @lazarskyy. This time she is taking a closer look at the Helikon-Tex Mistral Anorak. Enjoy!
---
Introduction
Did you know, that the Mistral is a strong, cold, northwesterly wind that blows from southern France into the Gulf of Lion in the northern Mediterranean? Mistral is also a French missile, but nothing about that one today. In this review we're gonna take a closer look at the Helikon-Tex Anorak Jacket – Mistral®, which actually was designed by the guys from Survivaltech.
---
SPECS
Weight: 637 g
Material:

Shell: Nylon-98%, Elastane-2%

Grammage: 145 g/m2
YKK® Zippers
---
Overview of the Mistral Anorak
The Mistral is an anorak style jacket, which basically means you put it on over your head. The company decided to use a softshell material called StormStretch a quite stretchy piece of fabric, which gives you protection against wind, light rain or snow, while at the same time being breathable.
Additionally, the jacket is covered with a layer of Teflon. Keep in mind to regularly renew the DWR coating – because while using, it might wear down. The jacket is not insulated, has a loose fit and should serve as a top coat.
Moreover, on the elbows we find reinforcements to reduce the chance of chafing in this area. The jacket is available in the following colors: Black, Adaptive Green, PenCott Wildwood and Mud Brown, which I'm using.
It's hard to make a piece of clothing, that is both perfectly breathable and windproof. As the anorak lacks a full-length zipper at the front, it's wind protection properties are significantly improved. Now on the other hand, you can regulate the airflow inside by two ventilation zippers in the armpits which comes in really handy during long trekking and is always a thing I'm looking for in jackets that I use as the "final" layer. To make the jacket more fitted on the bottom you can find some pullers.
The Helikon-Tex Mistral comes with five (actually four) pockets in total. On the arms we've got two small pockets with Velcro panels on top for moral patches, 9 x 11 cm each.
---
The main role in the jacket is playing the big, kangaroo pocket on the belly.
A YKK® Zipper provides easy access from the top. Also a simple, but practical organizer has been added inside the pocket with a small D-Ring for your keys, three partitions for some EDC stuff and a port where you can drag out the headphones cable – or whatever cable.
---
Under that big buddy we have another pocket, which has two sides accesses and allows you to hide and warm your hands.
All that is topped with an adjustable hoody, with pullers and Velcro on top.
---
The Mistral Anorak In Use
After some time spending together, I might consider anorak jackets as my favorite ones. At the beginning I would like to make it clear these are NOT jackets that were designed to be put on and taken off several times a day while walking. The reason I'm writing this is the fact, that people point out the way of putting it on as the most common disadvantage of anoraks. For convenience, some manufacturers add zippers on the sides of the jackets, however, one must reckon with greater weight and less wind protection.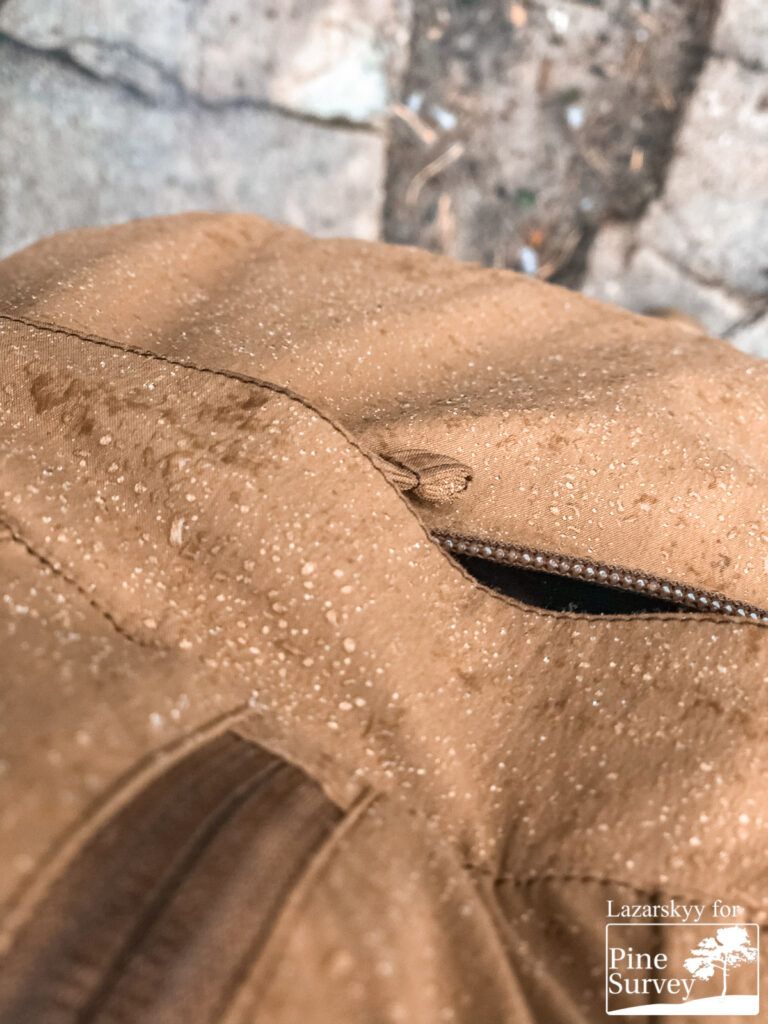 The material used is pretty interesting but very decent and has no membrane, it has a high level of breathability and wind resistance. The downside of synthetic materials is that they are not resistant to sparks and definitely not fireproof. If you look for a more bullet proof jacket, check out the Woodsman Anorak. Yet, StormStrech is light and allows the jacket to be compressed to a small size – I always roll the jacket and hide it in the hoody where I can pull it together.
This buddy was also on the range with me, as shooting with a belt is quite ok, a feature that might help here would be the side zippers but again, this isn't really the purpose of the jacket. Furthermore, wearing a PC or chest rig has no sense here – cause of the big kangaroo pocket. The important thing is, that the cut of the jacket doesn't restrict the movement. If you're everyday carrying, the jacket gives you enough space to draw your firearm easily.
Another activity – trekking. It's thin, but works surprisingly well in cold conditions. Together with a thermo-shirt and fleece it becomes a nice, warm and windproof set. With time the material might abrade in the shoulder area while wearing a heavy backpack.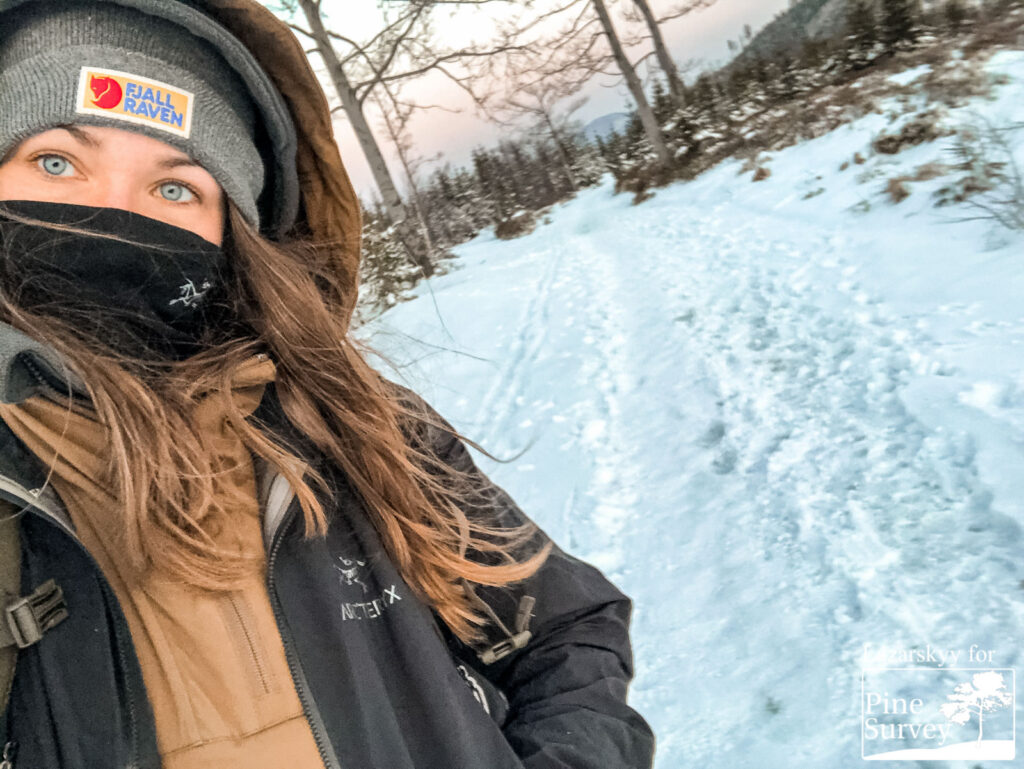 Urbex fans – it comes in black, giving you that low profile look. Better watch out for sharp and rough elements, the material is quite strong but it has its limits.
As I sometimes run around with my camera, the big kangaroo pocket came in handy. You can fit really a lot in there and have all the stuff that you need around.
The biggest issue I've been facing while wearing the Mistral was of course the men's sizing, but don't pay attention to that, my life belongs to men's clothing. Worn with a Helikon-Tex Cumulus fleece it fits nice. Supernat if you're reading this, please make one Mistral for woman, they'll love it!
The price? On Helikon-Tex official website you can buy it for around €89.00/$109.00. Is it pricey, is it nicey? Well, for me the price is accurate. If you manage to buy it with a discount – you get a good quality, affordable softshell.
---
SUMMARY
As Helikon-Tex has some anoraks in their offer (Woodsman, Pilgrim, Mistral + the thin and light Windrunner) Mistral is the one which is mostly aimed for tourists, but the cut of the kangaroo makes most sense while worn all day long by default. Big thumb up for the manufacture quality and thoughtful solutions. All I can say is – the Mistral is trekking, urbex, range and urban approved. 🙂
Keep in mind that the guys from Survivaltech still work and upgrade their stuff, so If you have some issues – let them know!
Until then, thank you for reading!
Take Care!
---
PS: Please consider supporting the blog!