Introduction
When Helikon-Tex announced the release of the Covert M-65 Jacket in Duracanvas, I was just as excited as anyone else in the gear community. Paying homage to one of the most iconic military jackets and giving it a modern and edgier look, this was surely something to look forward to.
Luckily enough, Helikon-Tex decided to provide me with one of those jackets, so I could take a closer look at it and share it with you guys. So let's get started!
---
Specs
Material:

Outer layer: DuraCanvas (65% Polyester, 33% Cotton, 2% Elastan)
Inner lining: PolyCo (65% Polyester, 35%Cotton)
Hood and reinforcements: VersaStretch Softshell (93% Nylon, 7% Elastan)

Hardware:
---
Overview
The layout of the jacket is well known and shown on Helikon-Tex' homepage in detail, so I won't bore you with too much information.
The front of the Covert M-65 features a total of 4 pockets, which are closed by one Canadian slotted button each. While the pockets on the bottom are bigger in width, the chest pockets are bellowed and expand if needed.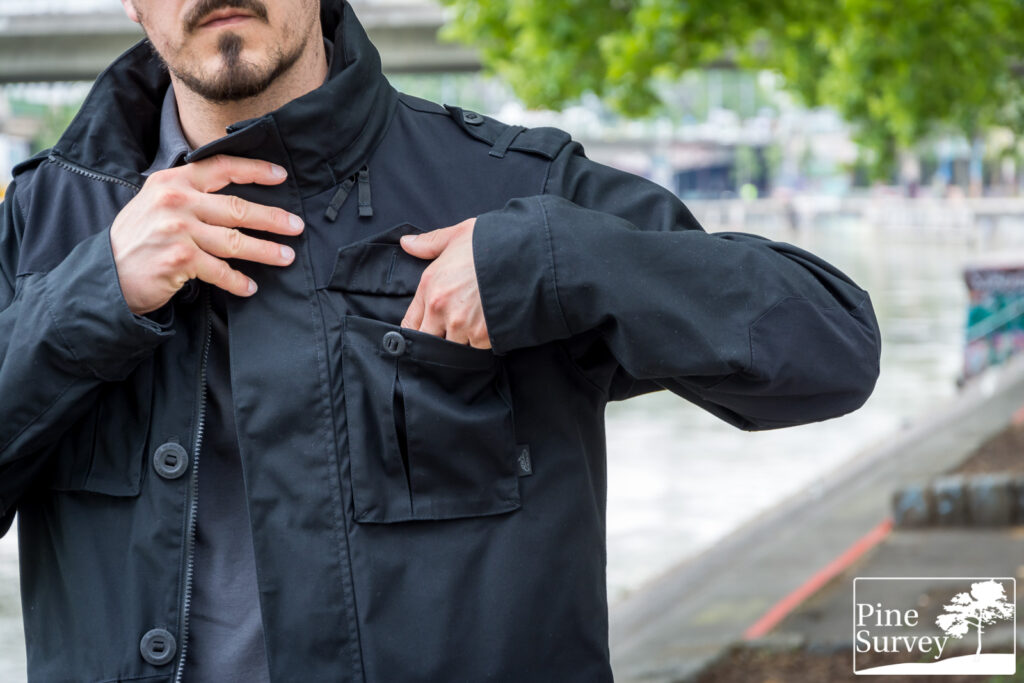 Using a YKK zipper, the front can be closed by either the zipper or by using the wind guard, which is secured by a row of flexible Canadian slotted buttons. The zipper does not feature a chin guard, so one needs to be careful when closing the jacket all the way up to the collar.
Just like with the original, a hood can be found in a zippered compartment inside the collar. Other than the Covert M65 jacket itself, the hoof is made of Versastretch softshell material and can be adjusted at the back of the head, as well as on the sides. A little velcro tap keeps the compartment shut, when wearing the hood on the outside – a nice little detail.
Hidden underneath the wind guard, one will find a Napoleon style, zippered chest pocket with plenty of room to store documents or flat items. The Canadian slotted buttons on the wind guard are well placed, so if you let one open, you have direct access to that pocket.
There are two more pockets at 5 and 7 o'clock, with velcro closure. These have the size of Magazines and are meant to carry additional mags, if needed – we will come to those later.
Other pockets can be found on the inside: the left and right bottom features zippered compartments which have little slots for pistol magazines (2 in each pocket, standard Glock magazien size). On the upper right you will find another zippered compartment, which holds a detachable fanny pack for documents like passports: this is the flat and concealable type which is used for travels.
Quickly looking at the sleeves, it is worth noting that the cuffs can be regulated using Canadian slotted buttons. The spacing in between them is well laid out, so they are not too tight or wide. The left sleeve also features a hidden zippered compartment on the wrist joint. The elbows are reinforced with softshell material.
---
Manufacture
When it comes to the quality of the workmanship, I have to say I am impressed. Especially with the regular uniforms (e.g. CPUs) you can find plenty of loose threads with Helikon-Tex, but not in the case of the Covert M-65.
The seams are straight and tight and the materials feel high quality. Using YKK zippers and the Canadian slotted buttons give the overall clean look of the jacket the final touch. The same can be said about the DuraCanvas Material and the Versatretch softshell reinforcements on the elbows and shoulders.
One note on DuraCanvas though: From what I have gathered so far I can only say that this has nothing to do with actual Canvas, and it is also not a consistent material, if you look at the different fabric compositions, which are labeled as DuraCanvas. The Covert M-65 labels DuraCanvas as 65% Polyester, 33% Cotton, 2% Elastan – so we are basically dealing with normal PolyCo here, with some added stretch characteristics.
Interestingly this is a different composition than the one of the Woodsman Anorak (55% Polyester, 23% Cotton, 19% Nylon, 3% Elastane). With that in mind I can only say that DuraCanvas is a nice marketing stunt.
---
Size and Fit
Size and fit is different than one might be used from traditional M-65 jackets. So those of you, who are used to the classic BDU sizing system, need to be careful when picking the right size. The same applies for those users who actually want to use the jacket in a covert environment, while carrying concealed weapons. For some reason Helikon-Tex decided to label two different sizes on their clothes for quite some time now – I can only wonder which one is used by online-shops. In any case the shown Covert M-65 is an EU size M (US size S).
The Covert M-65 ist cut slim and is true to the sizing system. I am 1,80m at currently 78kg and the jacket is borderline tight around the shoulders. One missed opportunity by Helikon-Tex was to leave out a bi-swing back around the shoulders – meaning those expansion folds, that you usually find in classic M-65 jackets and which provide added room for mobility around the shoulders.
So if you need more room for your shoulders in dynamic situations (shooting, running etc), or if you want to carry concealed, you need to size up at least one size!
---
In Use
At first, when the Covert M-65 arrived I thought that it was too tight around the shoulders. I am used to a much roomier cut by Helikon-Tex. After some time wearing it, I got used to the slimmer cut and also realized that there was still room to layer with a hoodie or a loft jacket. Also I believe that the material widens a bit with use.
However, the tight cut restricts you with certain movements. Especially when reaching up or to the front, the back around the shoulders tightens. Especially in these cases, I am missing the bi-swing back, which gives more room for the shoulders.
The jackets withstands light rain for some time, but you should not expect a waterproof jacket. DuraCanvas is basically PolyCo with added Elastan for stretch, so there are only limited water repellency chapacities, which are a result of a DWR finish. This at one point will come off and needs to be refreshed. At least the shoulders are reinforced with Versastretch softshell material, providing protection against the elements.
Especially in the rain the hood comes in quite handy, as it is made of Versastretch softshell material as well. I would have wished, however, that Helikon-Tex had made it roomier. The cords on the back are not needed to tighten the hood, as it fits tight around the head, leaving only limited space for hats underneath.
So far the material is holding up, but I have not put the jacket through hard use – only wearing it in an urban setting, but on a daily basis. When it comes to the material, I have to say I like it because of its feel and clean look – I would not consider it suitable for hard use however, and the fact that the reinforcements on the elbows are made of softshell material and not Duracanvas, speaks for itself.
Some of the features are of no use to me, since I do not work in hostile environments. The magazine compartments are nice to have, but I tend to forget they are there – so at least they are not in the way. It is worth mentioning though that they are not elastic and full (and therefore heavy) Glock magazines tend to slip out, because of the missing retention – so closing that zipper opening might be crucial.
The same can be said about the compartment for the hip pouch. A nice feature, but Helikon-Tex could save money and drop the price of the Covert M-65 by leaving that detail out. The magazine pouches/pockets on the backside are nice features, but could need more velcro, because when in use, they abrely close.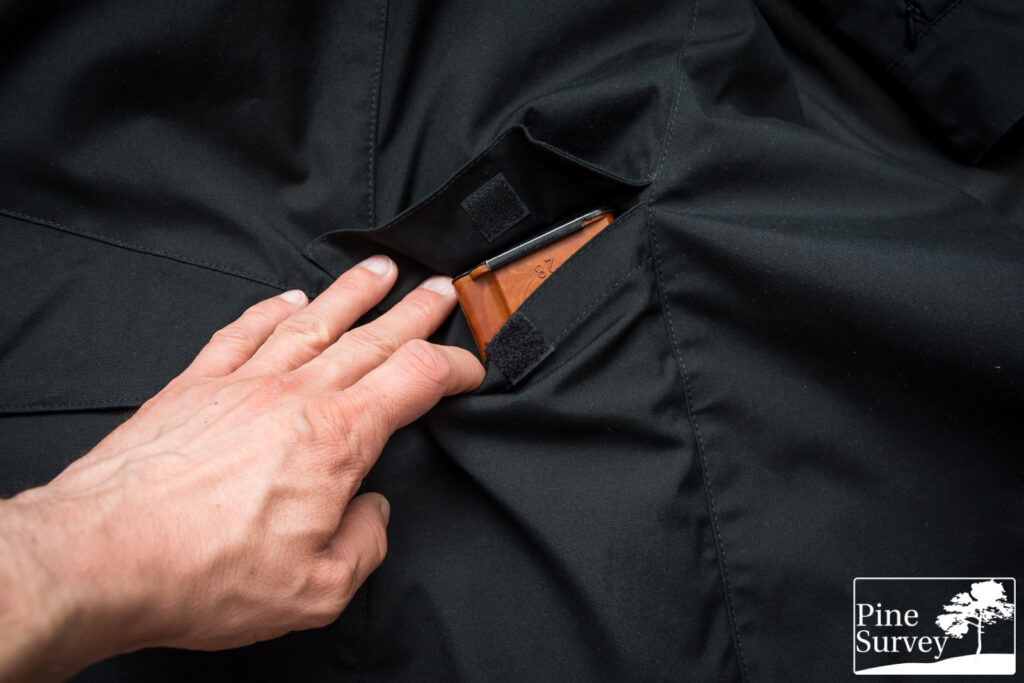 One thing that I would get rid of for sure are the shoulder straps. Even if they are a nice reference to the military world and heritage of the classic M-65, they serve no purpose, only get in the way of messenger bags' or backpack's shoulder straps and are contrary to the whole concept of covert (being visual markers for military style clothing).
Last but not least: While I have read comments of some users that they are wearing the jacket also in winter, with barely no layers underneath, I want to point out that this is a 3-season jacket, with no thick lining and no option to attach any liners on the inside. If you want to use it in winter, you need an optional loft or fleece jacket!
---
Conclusion
All in all the Covert M-65 is an extremely good looking urban jacket, sporting some interesting design ideas, but also missing some opportunities.
The lack of a bi-swing back and the fact that you cannot attach M-65 liners will catch the eye of the die-hard fans of the original M-65. With that being said, the jacket is a cool looking eye catcher for everyday use. It is well made and features an edgy and clean look.
Plenty of features offer not only the everyday urban user practical options to carry their essentials with them – they also aim at law enforcement and similar professionals who might need to carry concealed and want to leave their war belts at home.
Having that in mind, the Covert M-65 is an ideal and practical item, if you want an urban looking jacket, with a nice homage to a military classic. Just keep in mind to size up, if you want a more baggier look and need to conceal your hardware – if not you will have a smart, tight fitting look.
With that being said, I want to thank you for reading and many thanks to Helikon-Tex for making this review possible.
Take care.