It is Tourniquet Tuesday again and this time my dear friend and Pine Survey Contributor Alzwolf will give you his opinion on the SICH Tourniquet from Ukraine!
---
SICH Tourniquet
https://sicheurope.com/turniket/
---
Introduction
A tourniquet should be quick and easy to use. The product of the Ukrainian company SICH aims to be such a tourniquet. At this year's IWA (International Arms Exhibition) in Nuremberg, I got a tourniquet to take a closer look at. Many thanks to the company SICH for the provision of the material! During the development of the TQ, the experiences and wishes of users as well as new technologies were included.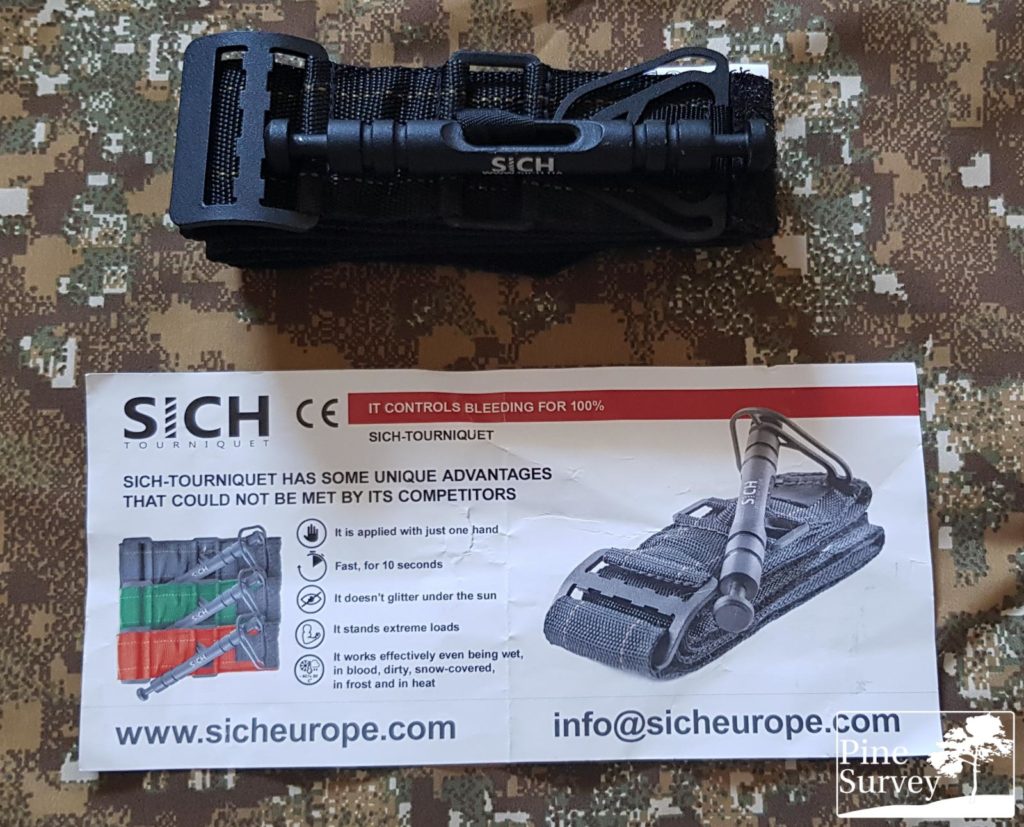 ---
Specs
Dimension packed: 16 cm x 4 cm x 3 cm / unpacked: 93 cm x 4 cm
Weight: 105 grams
Colour: black, green, orange
Due to the high-quality workmanship, the tourniquet also works in the event of moisture or contamination by dust, blood or snow. According to the manufacturer, the cold resistance is up to -40 degrees and heat resistance up to 50 degrees.
One-handed operation is possible thanks to a special developed loop. If you look more closely, you can see spikes in the double passage, which intervenes in the extra strong velcro of tourniquet. The band itself has a broken diagonal velcro. This patented "Extrastrong Sticking Technology" will ensure the tape is secure and effective in any state, be it wet, snow-covered, or dirty.
For the application on the arm, it is sufficient if the tape is only pulled through an opening. The band is heavily dressed and then cuffed. Thereafter, the knob can be operated without the tape loosening or slipping.When used on the leg, the band can be inserted through both openings. It helps that the end of the tape is shaped like a triangle and therefore easier to thread.

Lightweight yet durable duralumin fittings withstand extreme loads. A specially patented molded triangle allows fast and secure fixation. The knob is snapped into the holder and the remaining band of the tourniquet is pulled through a side opening. Thus, it prevents the pressure and tension of the TQ to be involuntarily released.
In addition, a small field for markings is available. These markers may e.g. be made with the tip of a cartridge or tool. It can also be labelled with a pen.
---
Conclusion
If you've already tried several different tourniquet models, you look more sceptical at newer things and in more detail. As I wrote before at the beginning of this series, it is very important to familiarize yourself with the material. Also with this TQ I had to practice several times, so that the handling becomes internalized and second nature. And it worked.In my view, a very successful product. You can tell that the experience of users and their wishes have been well implemented.
With that being said, thank you for reading and many thanks to SICH for the TQ.
Take care!