Review: Arktis – C411 Ranger Shorts
---
Introduction
Event though I got these already last year in September, it was already too cold to sport and write about them then. At the same time, the C411 Ranger Shorts by Arktis may not be new in their line up – but that doesn't mean they are not worth taking a closer look at.
With summer fast approaching, Shorts are back as a topic. Since I was already impressed by the B110 Smock, I could not resist to also take a look at these shorts.
So let's do the overview and specs for those in a hurry, before going into more detail.
(Note: Pictures are edited – colors might appear more saturated than they are)
---
---
Overview
The C411 Ranger Shorts are based on the C222 Ranger Trousers, featuring the same pocket design in the upper half. Made of 50/50 Poly/Co these are more lightweight and therefore more breathable than regular 50/50 Ny/Co, without abandoning features like IRR treatment and No Melt No Drip. Providing bellowed cargo pockets with an additional vertical zipper, to allow access when sitting, these also come with smaller pockets to the front.
Specs
Material: 50/50 Poly/Co, YKK Zippers
8 pockets (side, rear, cargo and front)
DWR & IRR treated
---
The C411 Ranger Shorts
---
Starting from the top and working myself to the bottom. The waist features 7 large belt loops of which the one on the back (6 o'clock is twice as wide as the rest). The pants close via a velcro tab and a YKK zipper.
---
---
On the sides you will find the typical side pockets which are quite deep and provide enough room for the items you wish to carry with you. The angle of the opening is quite steep, and there is no reinforcement for knife clips etc.
---
---
To the back there are two slanted pockets which are closed by two velcro tabs. These are nice and deep as well.
---
---
Coming to the cargo pockets. These are bellowed pockets which expand to an incredible size, giving the user more than enough room to carry additional items with him/her. The pockets provide two openings: The usual one on top, using a Canadian slotted button to close the main opening, as well as a zipper, which runs vertically. This allows easier access to the cargo pockets when sitting or kneeling.
---
---
To the front you will also find one velcro pocket on each leg. These expand a little bit and give enough room for bandages, hanks or smaller smartphones.
---
---
Sizing
Sizing is a bit tricky on the C411 Ranger Shorts. I received size 32W, which should fit people up to size 33, according to the sizing chart. Being a size 33 myself, I decided to go with 32W instead of 34W only to find out that these run quite small.
With that being said – if you are in between sizes, do go for the larger one! The number of the size corresponds with the maximum one can get. While the velcro closure of the Shorts give some leeway, the zipper will show if you use this to adjust the size. Also the hip area will be rather tight.
---
Quality of manufacture
Arktis was and is known for their excellent quality. The C411 Ranger Shorts are no exception. High quality materials – in this case the licensed PenCott print, done by Dinsmore – as well as reinforcements in critical areas complement the picture.
---
---
One can find the occasional loose thread, but other than that there is nothing to criticize. If I would have to put them on a scale of quality, I would rank them on the border from medium to high quality (high quality being the Gucci brands in the highest price segment).
---
The C411 Ranger Shorts in use
The shorts are really lightweight, which makes them comfortable to wear, but also very breathable. This is a result of the lighter fabric Arktis and Dinsmore are using. What sets this fabric apart from other 50/50 fabrics is the DWR treatment, which makes the Shorts water resistant to a certain degree – meaning it will repel water for some time before it soaks it up.
---
---
What is also worth noting is the fact that the light material and the no nonsense construction of the Shorts make them actually a small package, when rolled up.
---
---
Especially for those who prefer their shorts ending above the knee, the C411 Ranger Shorts are something to look at.
The pocket configuration is more than enough for pants like this. Especially the bellowed cargo pockets expand to a degree which I would personally consider excessive (in a positive way). As a result one can carry more than enough items with them. What makes these pockets so practical is the zipper which allows access from the side.
Features like that usually come only with higher priced companies and their products, so this is a most welcomed addition.
---
Conclusion
The C411 Ranger Shorts are an excellent choice for those looking for lightweight shorts that end above the knee. Being not only light, but combining DWR treatment with breathability, makes them an excellent addition to everyone's wardrobe.
Arktis actually managed to build Shorts which provide several useful features, without making them bulky. A small packing size is always something worth noting and the C411 Ranger Shorts fit that description.
---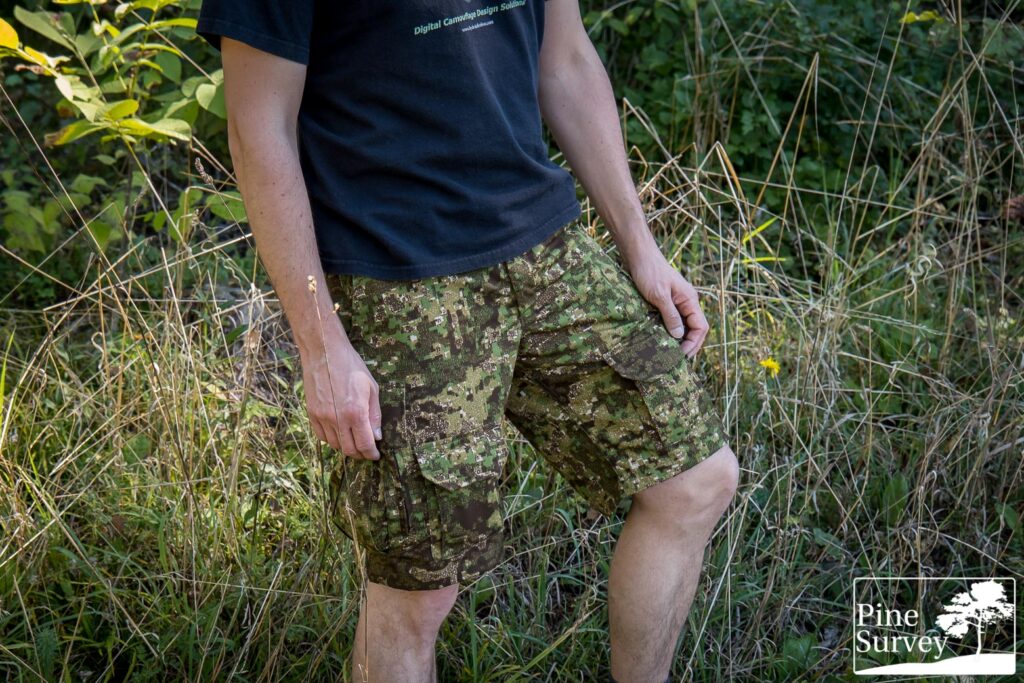 ---
When looking at the bang for the buck factor, these are definitely worth their money. Not only because of the high quality materials and level of manufacture, but also because the provide a more than decent quality for those, who don't want and need to spend hundreds of Euros/Pounds/Dollars for high level brands.
With that being said, many thanks to Arktis for making this review possible!
Thank you for reading!
Take care
---
As always – feel free to leave a tip – every help is appreciated!