It is my pleasure to give you a review by dear friend and Pine Survey contributor @lazarskyy. She had the opportunity to take a closer look at the Helikon-Tex Womens Wolfhound jacket.
---
Introduction
Finally, here it is! The Womens Wolfhound jacket from Helikon-Tex, made especially for women. Bye, bye men-sized clothes. I've been craving for the women collection for a while now and thanks to Pine Survey you can see the journey I've made with it.
---
Overview
The lightweight (400g) Helikon-Tex Womens Wolfhound jacket is filled with Climashield Apex and supposed to keep us all warm and cosy, even when wet. Designed with a feminine silhouette in mind, to wear alone or together with a rain jacket. It can be easily compressed and packed without any threat to its properties into the attached cover. Seems like a perfect journey partner, hm?
---
Specs
Outside material: 100% Nylon – WindPack
Insulation: 100% Polyester – Climashield Apex (67 g/m2)
Weight: 400g
---
Helikon-Tex Womens Wolfhound
---
Features

The Helikon-Tex Womens Wolfhound has a zippered inner pocket, a small front pocket on the left outside of the chest and two bottom hip pockets, lined with fleece that provides protection against cold.
Their size allows you to store a phone (iPhone X-like). The jacket uses high-quality YKK zippers. You can spot that the main lock has a thermal strip, it's an addition to prevent heat loss.
A soft velcro is sewn on the left arm for personalization, but it does not overwhelm the appearance of the jacket.
The jacket has a quite high collar, which reaches almost over my nose – now, for me it's a benefit cause I like being covered, but for some of you it might be a little bit disrupting because the end of the zipper is quite sharp and the "zipper garage" is not as protective as it should be.
The collar of the jacket is integrated with an anatomic shaped hood that perfectly protects your ears from the cold, but even though you can adjust its size, the opening of the hood could be smaller, as it doesn't cover the forehead – wearing a hat is mandatory.
Moreover, the hood has an installed visor of which I'm not a fan and I don't see any deeper sense of its use. If I could recommend something to change on this jacket it would be deleting this visor.
Cuffs, hood and bottom of the jacket are finished with an elastic hem.
For a better breathability, the underarms have inserts made of VersaStretch material – and that really does the job.
The manufacturer uses stitching between the chambers with Climashield Apex filling. That way it prevents the filling from moving and as a result eliminates spaces where the cold could pass through.
---
Size and fit
I must admit that the size and fit is one of the biggest pros of the jacket. I'm a pretty tall person (174cm), there's nothing too short so the length of the sleeves and the length overall is perfect.
The back of the jacket is a bit longer than the front, so it allows to cover your kidneys even when you put your hands up. The Helikon-Tex Womens Wolfhound Hoodie is designed with a feminine silhouette in mind, so you won't lose your shapes in it. 🙂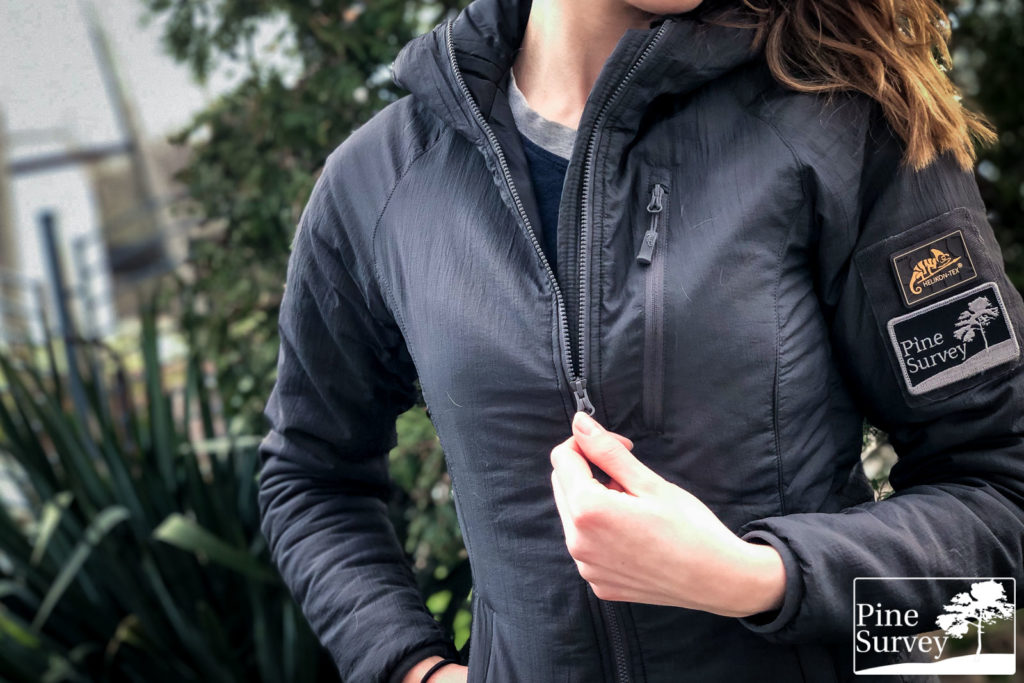 ---
In Use
The Helikon-Tex Womens Wolfhound is a pretty comfortable jacket, it's fitted cut does not restrict movement. I've been using the jacket in temperatures from 0 degrees to about 15 degrees, mostly spring weather like rain, little bit of snow a lot of cold winds and sunshine.
Wearing it during windy weather without an additional layer like a softshell, Gore-Tex etc. was uncomfortable, as it doesn't really block hard and cold wind and you can easily get cold while being all sweaty.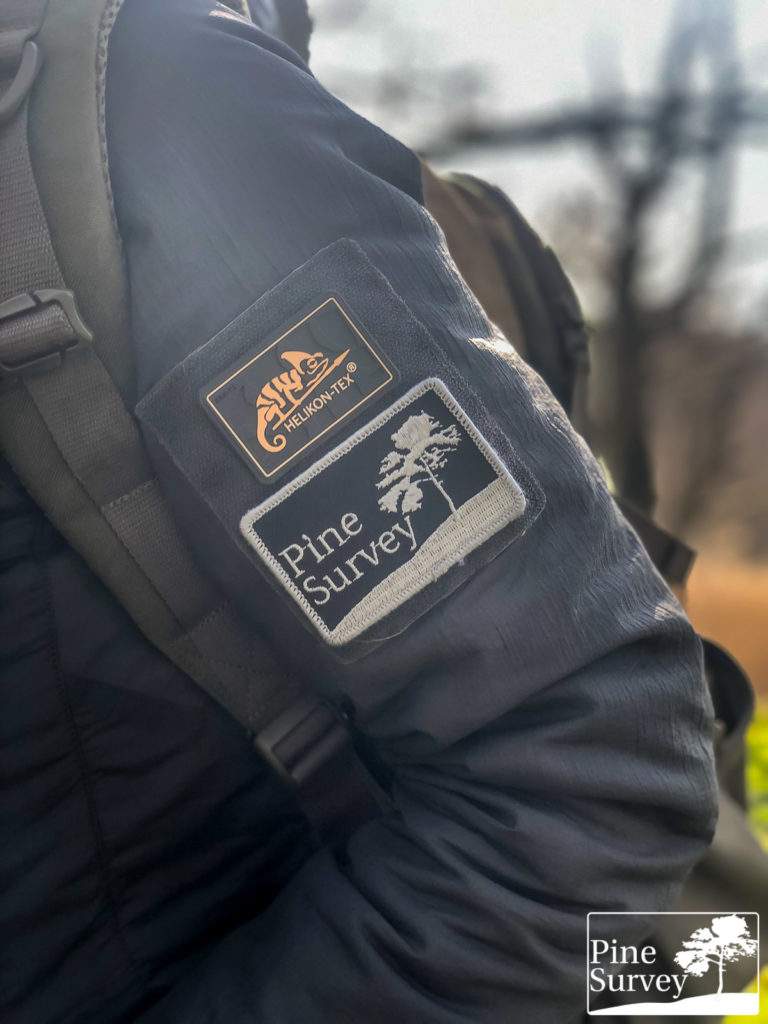 The VersaStretch installed under the armpits transports all the moisture from inside the jacket to the outside. Now when you sweat a lot, that material gets really, really wet – cause the rest of the jacket is not as breathable as the armpits. That is probably cause the material is covered with Teflon (which gives the jacket some water resistance). Like stories tell, Helikon-Tex clothes gather their breathability with time at the expense of water resistance.
Anyway, the outside material (WindPack Nylon) might feel pretty delicate, but generally it is strong material. I would only avoid sharp tools, blackberry bushes and sharp puppy teeth.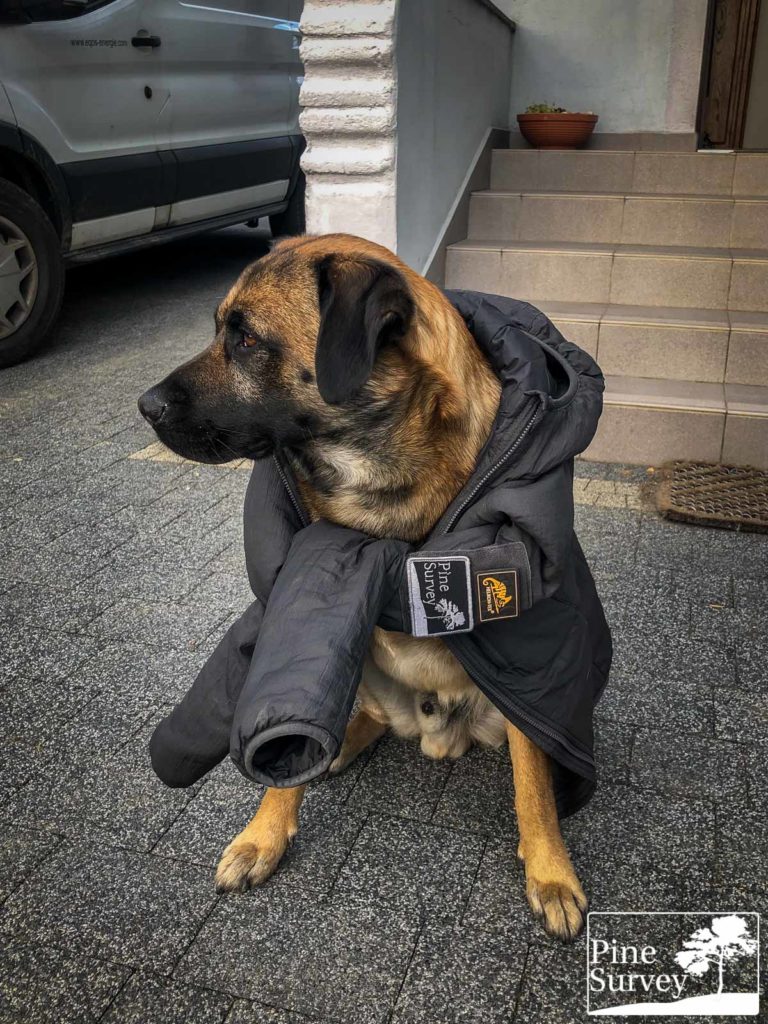 ---
Conclusion
The Helikon-Tex Womens Wolfhound jacket in a combination with a water resistant layer is a perfect choice if we are considering going to places with a cold and humid climate. The synthetic filling has an important advantage – its drying time. Even after getting wet, Climashield Apex filling dries much faster than natural fluff. It provides high warmth comfort, is light and can be easily compressed to small sizes.
Coming to an end I hope I gave you a detailed look at the jacket! Many thanks to Helikon-Tex for the support!
Take care!