Review: Särmä – TST L4 Uniform
---
Introduction
As some of you might know from a previous camouflage field test, I had the chance to get my hands on a TST L4 Uniform in Finnish M04 desert camouflage – courtesy of Varusteleka.
With that I was not only able to give you a decent overview on how this camouflage pattern performs in a winter environment, but also want to give you a better idea of the uniform itself. Another field test in a (mock up) desert environment is to follow soon as well.
Let's get into an overview and some specs, before looking at the actual uniform itself.
---
Overview
The Särmä TST uniform is a uniform developed in-house by Varusteleka. Their aim was to give Finnish soldiers better alternatives to regular BDUs and are using Mil-Spec materials with the actual Finnish camouflage patterns. The uniform itself is designed as a level 4 layer, meaning the layer on top of base-, mid- and insulation layers.
Both the pants as well as the jacket provide several features, which will be looked at more in detail down below.
Specs
50/50 PolyCo, with 200g/m2 fabric weight
8mm Opti zippers
Canadian slotted buttons
NIR-compliant
---
---
Disclaimer: Varusteleka provided me with a full set to make this review possible. If you are interested in the items (and also if you want to show Varusteleka that it was worth their support), please follow these links – or let them know who sent you during your next order. This might help future reviews!
---
Särmä TST L4 Field Jacket
The Särmä TST L4 field jacket features a mandarin collar with a flap over the zipper to protect you neck and beard from being caught in the zipper. Said zipper is a large 8mm Opti zipper which opens up the complete front of the jacket.
---
---
You will find a wind guard in front of the Opti zipper, closed by one Canadian slotted button on top as well as one on the bottom. In between three long velcro strips hold the wind guard in place.
The chest features two zippered pockets, which are large enough to carry maps and documents with you. There are no internal organization options like elastic webbing, but this would be overkill anyway in this design.
---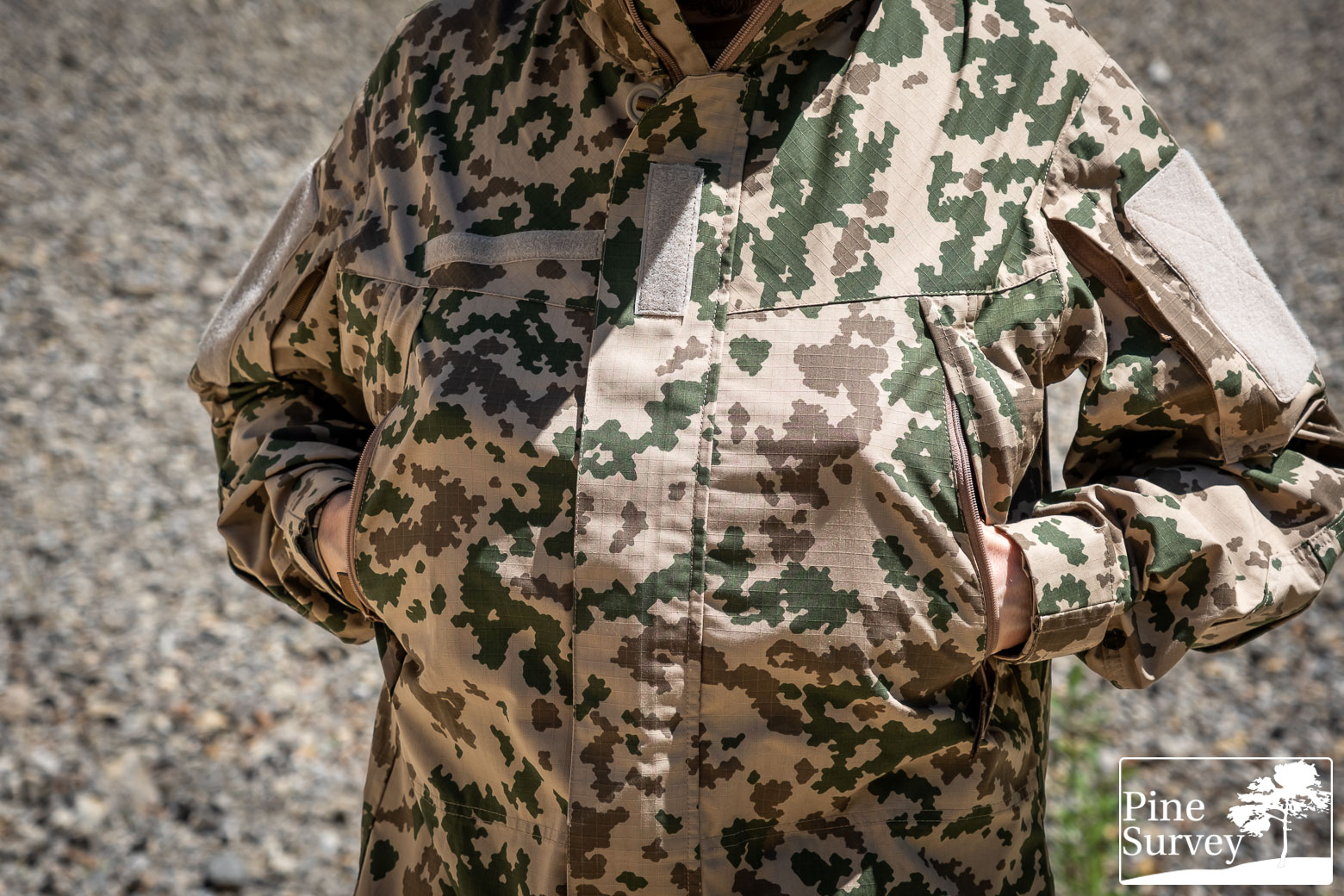 ---
Both sleeves feature upper arm pockets, with zippers and a velcro area on top to wear insignia or unit patches. The elbows are reinforced and provide openings to insert elbow pads. On the M04 desert variant, they are reinforced with the same fabric as the uniform itself, while the M05 woodland variant features Foxdura (imagine Cordura with another brand name).
---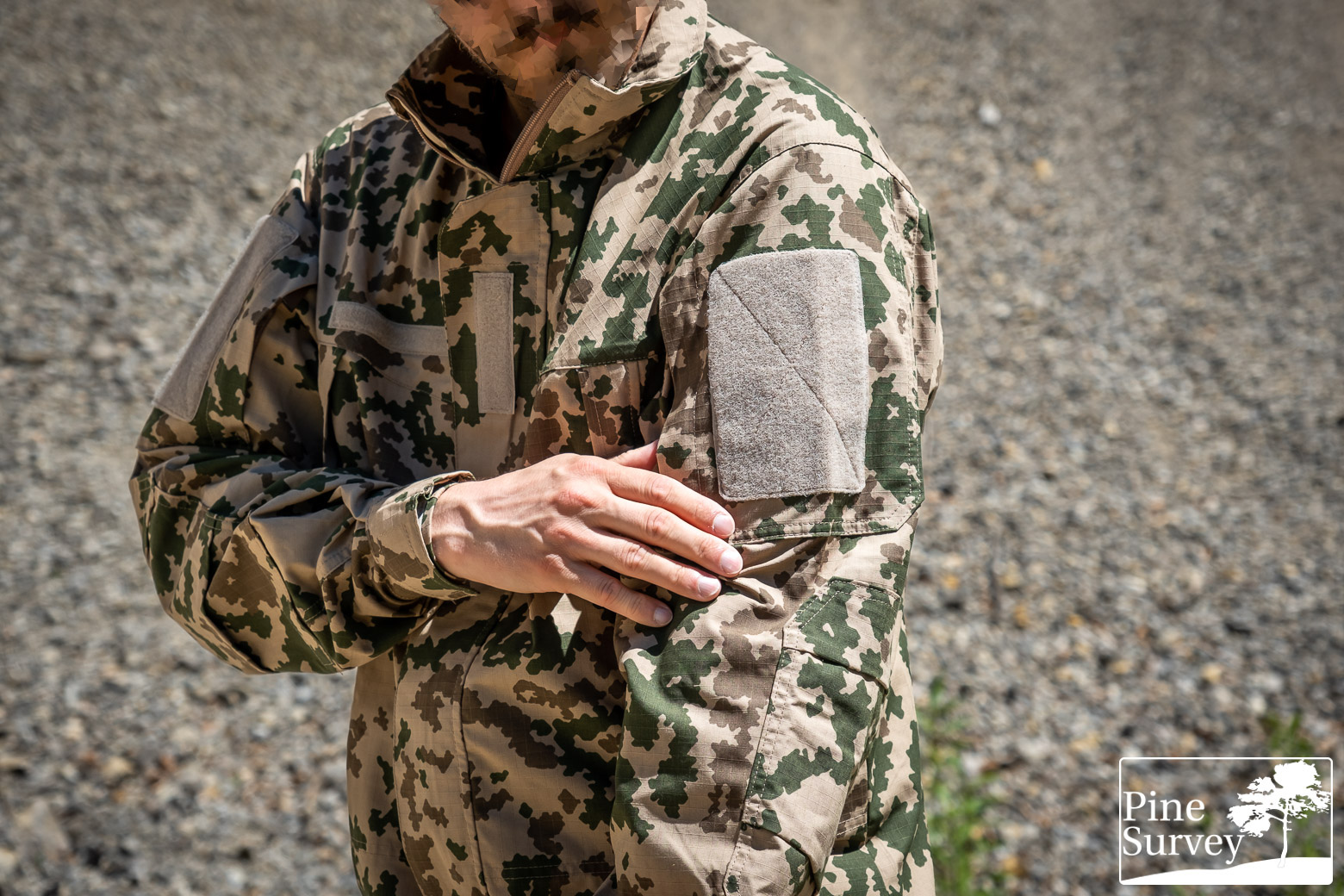 ---
The cuffs can be adjusted using velcro tabs. Other adjustment options can be found in the bottom of the jacket, where you will find a shock cord to guarantee a closer fit.
---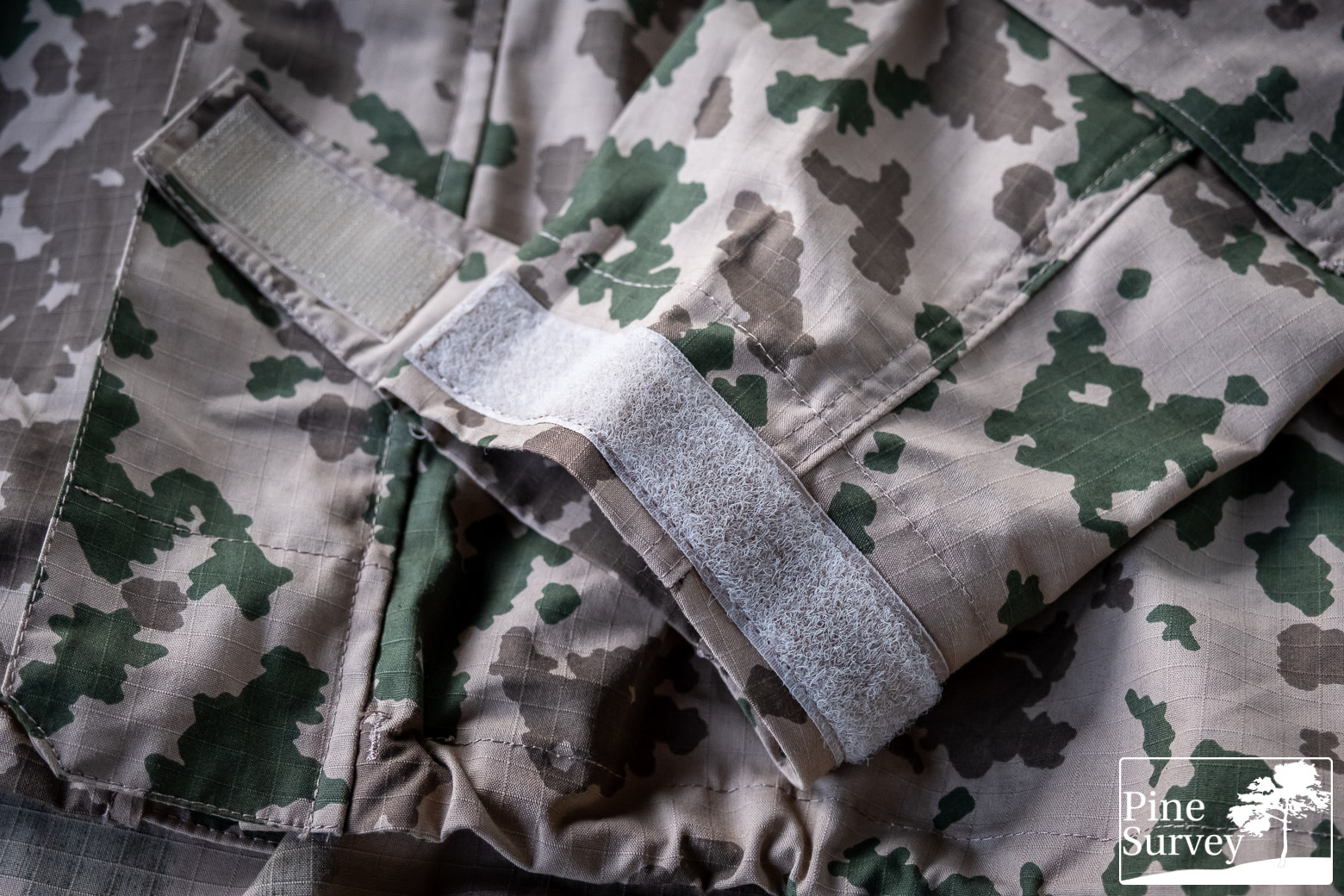 ---
For heat management one will find pit zips under the armpits, which are more than long enough to provide decent ventilation. These open up to the inside without any mesh to prevent insects from entering or to prevent the gap from opening up too wide.
---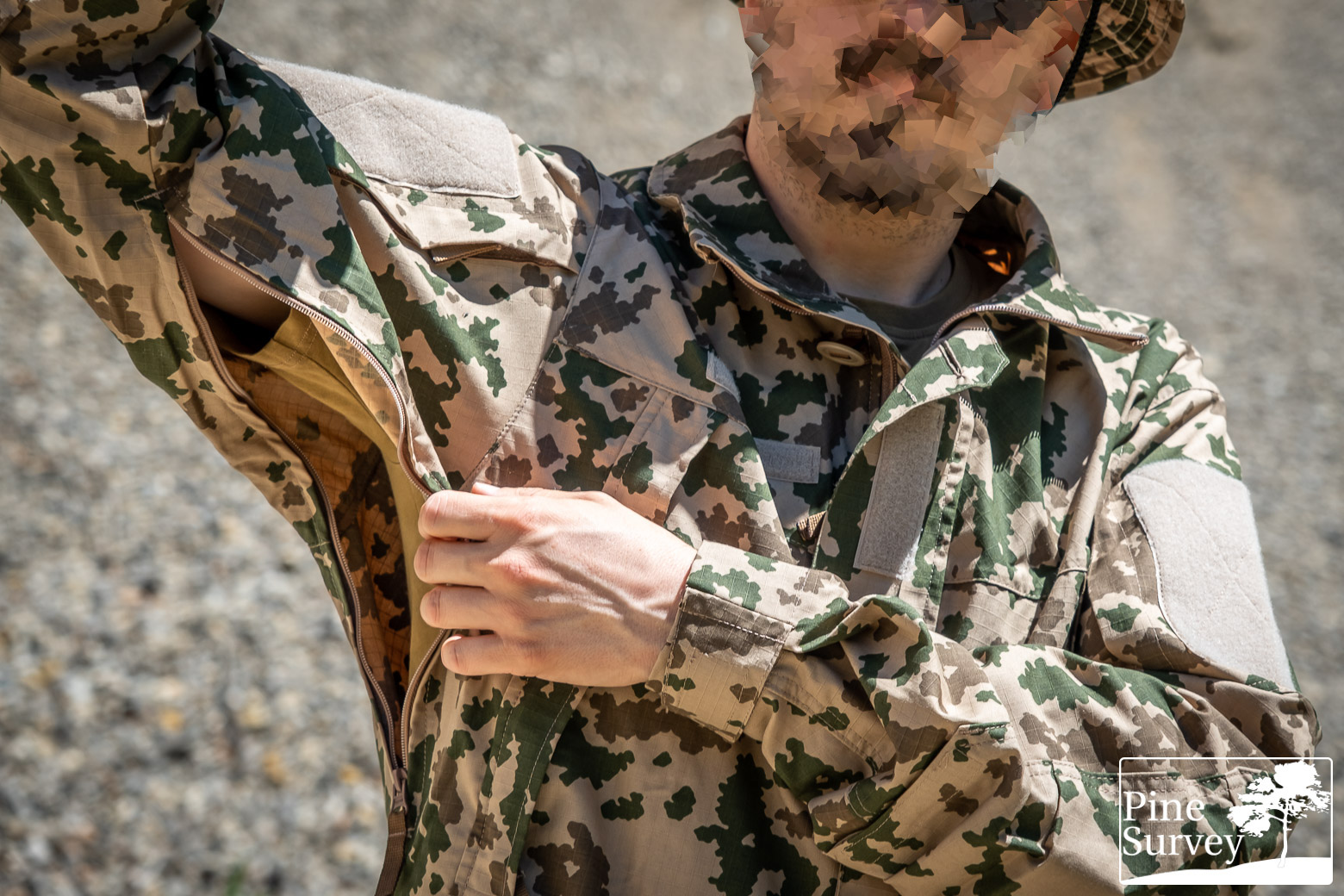 ---
Last but not least, and this is a detail I always appreciate as it is simple and functional: there is a loop in the collar to hang the jacket on a hook. Sounds ridiculous, but most companies save on that useful detail these days.
---
Särmä TST L4 Field Pants
Starting from the top and working our way slowly towards the bottom. The waist of the TST L4 field pants feature a high waist and roomy cut with a higher cut covering the tailbone of the user.
---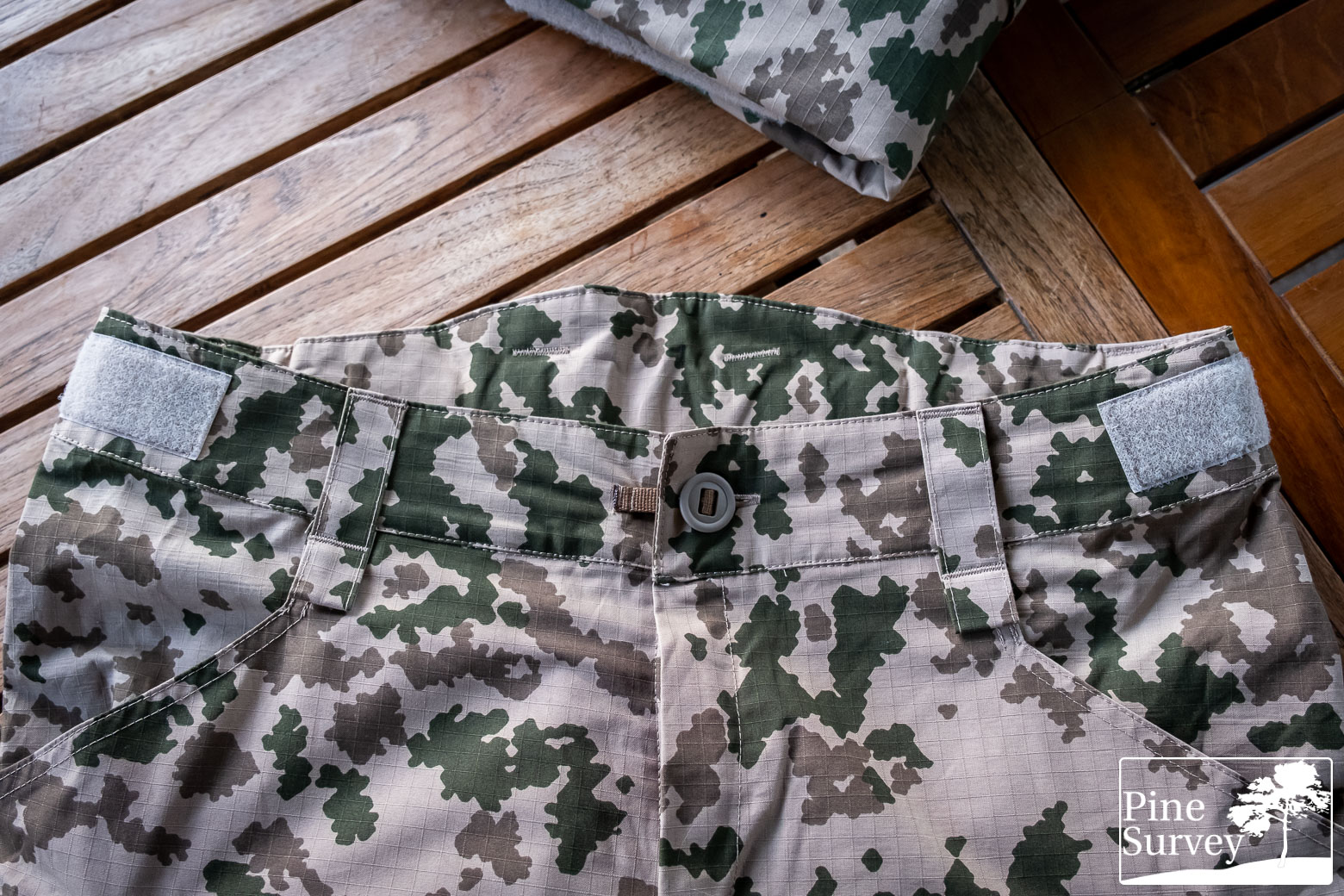 ---
A total of six wide belt loops provide a secure fit and make the use of 50mm 2" belts possible. Four of them also feature loops to attach grimloks. Inside the waistband is also an elastic webbing to adjust the waist even more. This one uses velcro and feels as if it isn't even there, but if it bothers you, it can be removed completely.
---
---
The zipper fly closes with a Canadian slotted button and an Opti zipper and the crotch is diamond gusseted.
The TST L4 field pants feature four pockets. Two deep side pockets and two large cargo pockets. The latter are bellowed pockets and expand massively, so one has plenty of storage room there. They close by two velcro areas as well as a Canadian slotted button, if you need the extra security.
---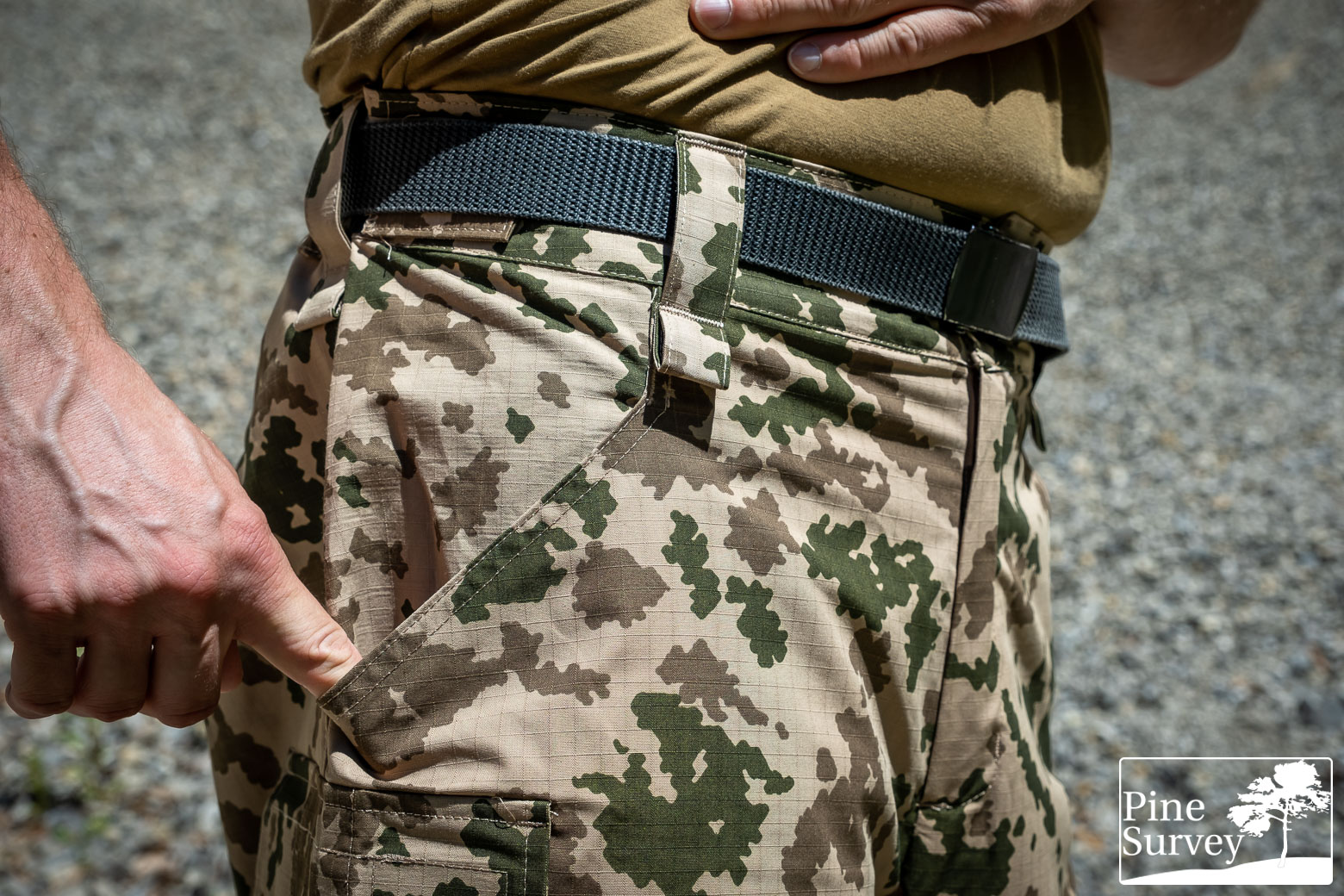 ---
Coming to the knees. These are reinforced with the same uniform fabric (again, the M05 variant features Foxdura) and they provide an opening to insert knee protection pads. However, there is no velcro tap or other way to mount the knee pads in place or closer to the leg.
---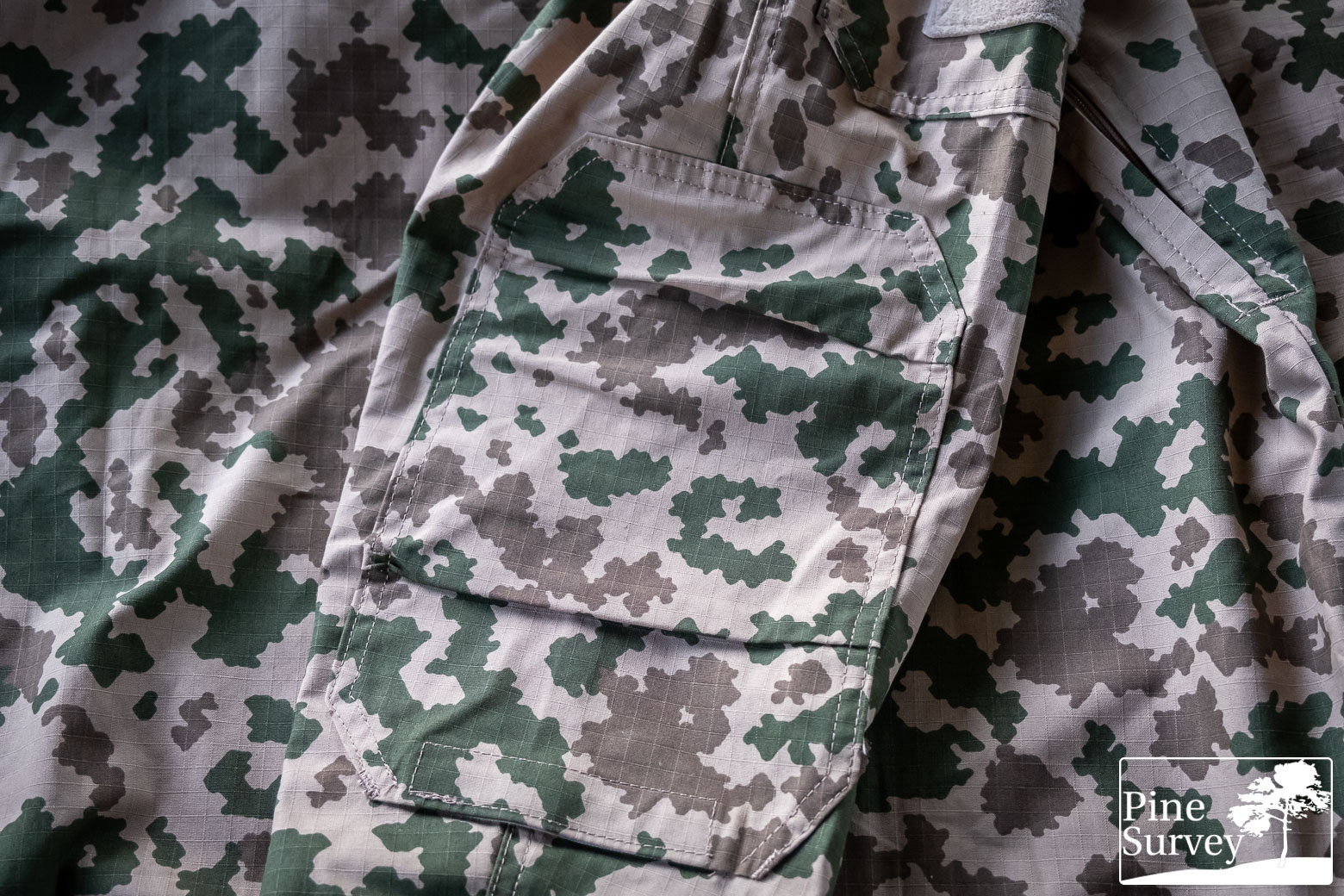 ---
The cuffs at the bottom feature another velcro tab to close up the pants and provide a better fit.
---
Särmä TST Boonie Hat
The Särma TST Boonie hat is a standard boonie without any fancy tricks like other brands provide these days.
It features a shorter brim in the likeness of a "recce" style boonie and a foliage ring to attach additional camouflage. The foliage ring is made of uniform fabric and not webbing, thus providing a matching camouflage experience.
---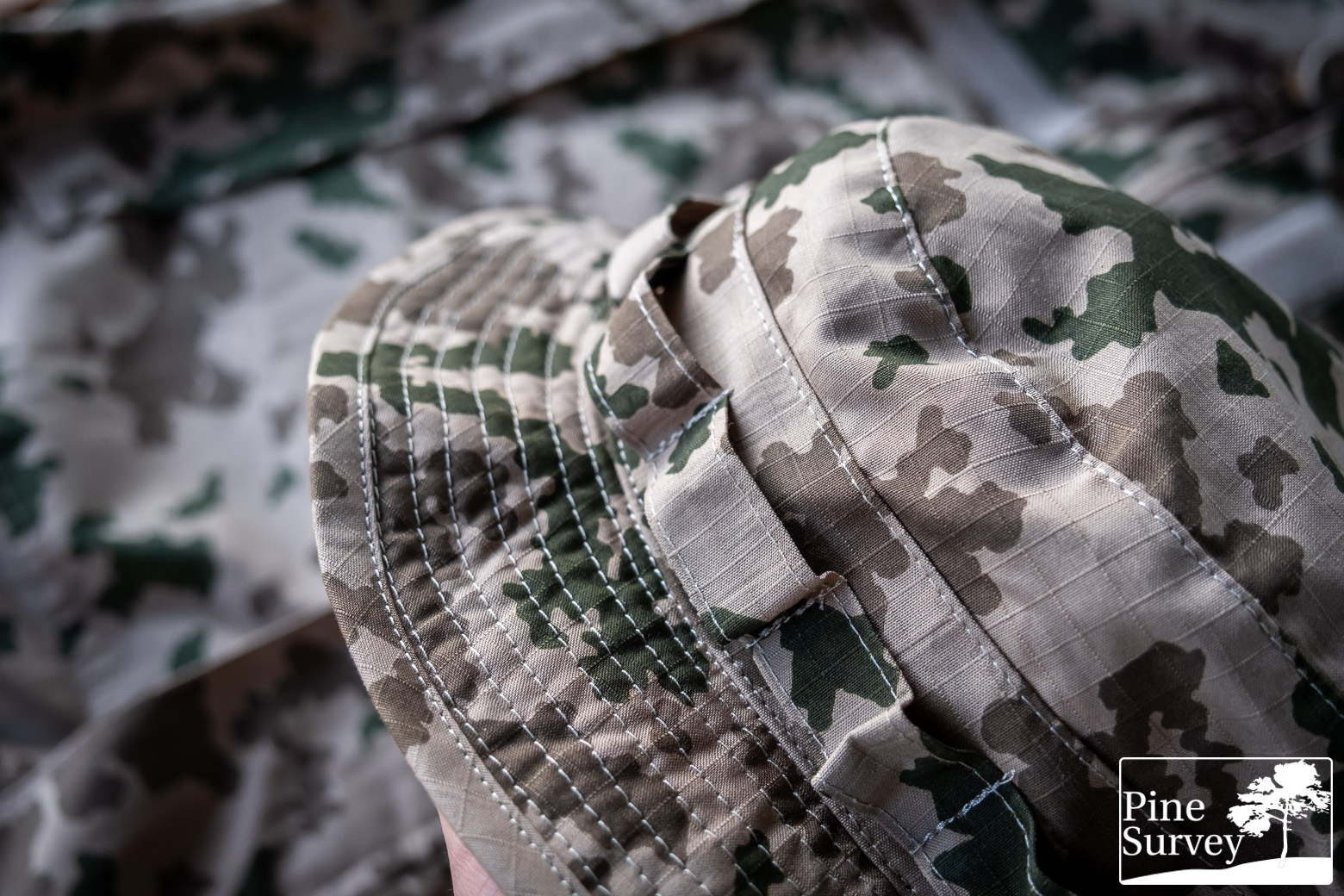 ---
If the Boonie is too big, one can cinch it down, using a diamond braided cord and a cord lock at the backside. Another cord serves as a chinband and can also be adjusted using a cord lock. It is a pity they didn't use paracord here, but it certainly serves its purpose.
On the inside a comfortable gray fabric provides a comfortable fit. One thing worth noting is that the boonie does not have any air vents at all.
---
Level of Manufacture
With all three items the level of manufacture is decent to good. When comparing it to other brands, I would place them somewhere in between Helikon-Tex and Clawgear – meaning, that the quality is better than Helikon-Tex, but not as nice as Clawgear.
According to Varusteleka the Särmä uniforms are sewn in Estonia, which also reflects in the price. The materials used are top notch and when looking at the seams and manufacture, one cannot complain. You will find the occasional thread sticking out, but no skew seams. Stress points are reinforced, so these uniforms will hold some time.
---
Sizing
Coming to the sizing – which was quite the surprise. By now I am used to be look twice when choosing a size as most companies interpret the international sizing systems rather freely. (Helikon-Tex for example decided from one day to the other to designate the size M as Large).
Either way… Varusteleka provides detailed info on the sizing, giving chest and waist measurements and providing info on the cut.
So with me being usually in between Medium and Large, I opted to go for Large as I had gained a bit of weight. Medium would have sufficed.
The Särmä TST L4 Uniform is cut big. First of all it is true to the original BDU sizes, so if you were a Medium back then and wear 34/32 Jeans, Medium will fit. With the field jacket I went commando two times… because I also ordered the long version, as I have really long arms and Medium Regular usually doesnt fit around the shoulders or the arms.
With the TST L4 Field Jacket I might have had an excellent fit with Medium long.. I will only find out if I will get the chance to try it on.
So, keep in mind. Even if the measurements on the homepage say otherwise, these are cut larger than expected and leave plenty of room for layers. Having in mind the other three layers Varusteleka offers, this makes sense… a cold country needs more layers and roomier cut clothes.
---
Conclusion
The Särmä TST L4 uniform is a solid set with a no-BS approach. The features resemble what a regular soldier needs and even more so. Level of manufacture is excellent and one can tell that these pieces will hold for a while.
Varusteleka has gained a reputation for decent clothes and equipment by now and one can tell that the people behind those items are every day users of such equipment. While you could add more features to it, this would also reflect in the price, which is in the higher middle of uniform prices, but which also reflects a European production and quality materials.
Besides the uniforms the camouflage needs to be mentioned as well. Finnish camouflage patterns are among the most effective out there. The M04 desert camo is also very versatile, being usable in winter and autumn here in Europe. More on that here.
With that being said, many thanks for reading. I also want to thank Varusteleka for making this review possible. As I already mentioned in the review in the M04 pattern in winter: Do me a favor and click the links below, so that Varusteleka knows that their support was not in vain. With some luck we can even continue with other items.
Many thanks, and take care!
---
---