I already had the pleasure of reviewing a pack of Karrimor SF in a previous article of mine. On that occasion I also gave a little insight into this particular British brand, which has a long tradition and good standing in military circles. Some of their packs are even perceived as being iconic – the "Sabre" line up of backpacks is no exception in that regard.
Over a year ago, Karrimor SF decided to add the PenCott family of camouflage patterns to some of their products. Pictures of these were available for some time now, but the packs weren't because of a fabric shortage. By now the problems are solved and the packs are widely available.
Lawrence Holsworth from Hyde Definition/PenCott Camouflage was kind enough to send me one of the Karrimor SF packs in their Badlands pattern. Therefore I am able to give you this review and some more pictures of the pack.
I have to assume that some of you already know the pack, since it has been available for quite some time. As a result I will try to keep it short and precise and focus on things that might be overlooked.
Overview
The Sabre is a 30l day sack which has a clear alpine heritage. With its lightweight build of only 1,15kg, it offers a huge main compartment that can be closed with a snow guard. The huge top lid cover features a zippered compartment as well. On the sides one can find elastic side pockets as well as ski guides. Other features consist of shockcord ice axe holders, a basic hip belt, a padded back with a frame sheet as well as contoured shoulder straps with a sternum strap.
Specs:
Fabric: 500D Cordura (olive, coyote, black models feature 600D fabric)
Hardware: YKK zippers, Woojin buckles and hardware
HxWxD: 52cm x 30cm x 21cm
Weight: 1,15kg
The pack was obviously designed to be lightweight. Everything that was not necessary or would create bulk was kept out of the design. If you have spent some time in the mountains, you will appreciate this.
Main Compartment
The main compartment is without features except one – an elastic slip panel at the backside of the interior to store away a water bladder. After all it is a day sack! This is the type of backpack that encourages you to think how you should pack it.
There is also the possibility to access the compartment for the frame sheet, if you want to take it out or make it stiffer with another layer of plastic.
The only thing missing in my opinion is a decent option to mount water bladders. The compartment for them is there, the opening for the tube on both sides to the outside as well, but not a simple velcro tab or paracord loop to hang it in there.
The main compartment can be closed with a snow guard. Pull the cord, adjust the cord lock and you are good to go. You know the drill.
Top Lid Cover
The top lid cover reaches wide over the opening of the main compartment, leaving plenty of space to put/store a jacket, or blanket underneath.
It features a zippered compartment with plenty of room for accessories and smaller items you need fast access to.
On top of the lid cover there is shockcord run through four loops, creating a net to carry additional items on top of the pack, like jackets etc. It is easily adjustable by a cord lock.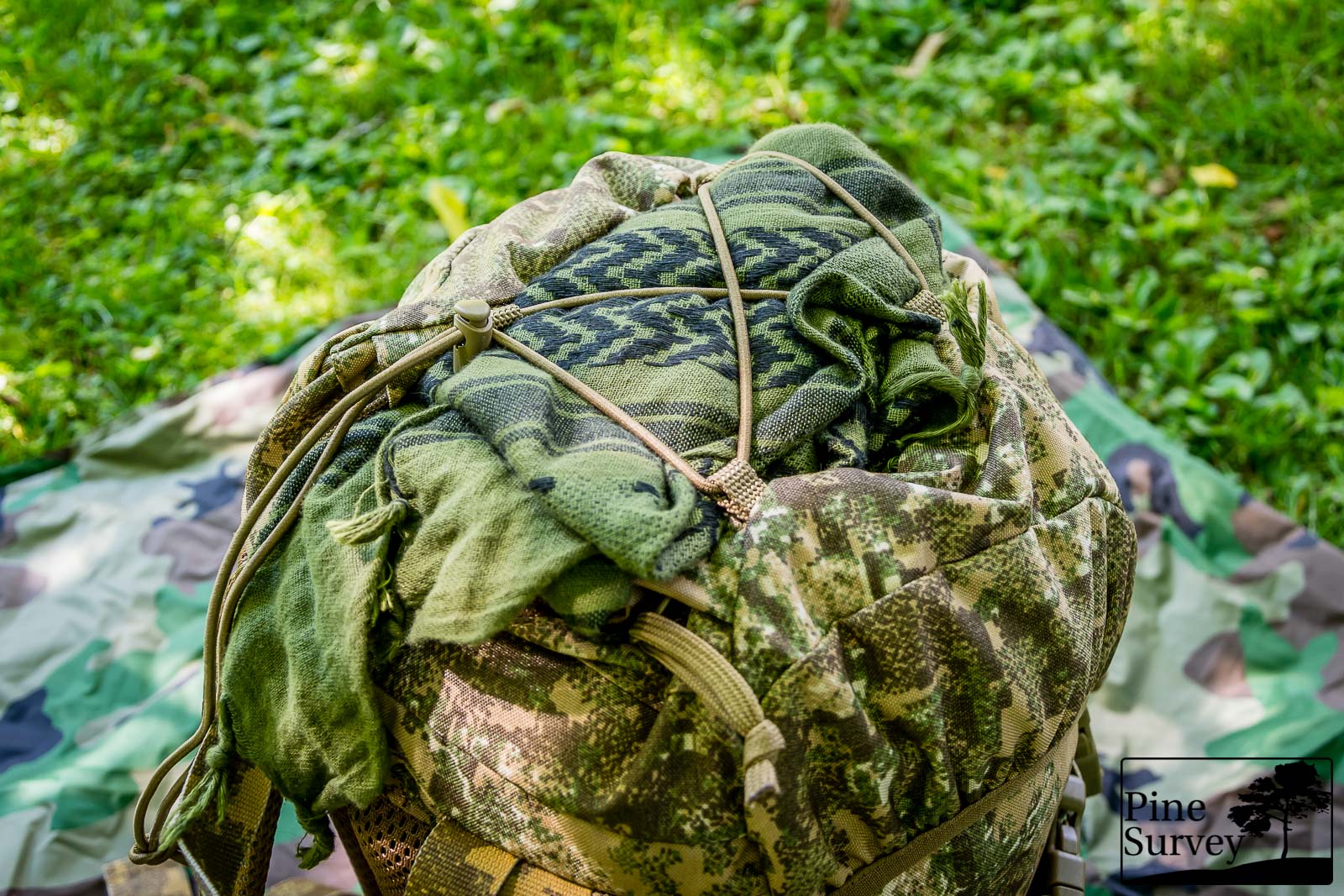 Shoulder Straps
The shoulder straps are contoured and feature a sturdy construction made out of foam material, heavy duty mesh and seam tape. On top of the straps a layer of cordura was applied with a row of webbing.
On the webbing you can find a D-Ring on each side, as well as one hook on one side, keeping the tube of your water bladder in place. This hook can be removed, so you can adjust it to the side you prefer, or the area on the webbing of your choosing.
A removable sternum strap is also part of the pack and can be adjusted to your particular needs.
The shoulder straps are stitched on with bartack seams, so there is no need to worry about tearing them off.
Backside
The backside of the pack is padded thickly with heavy mesh. The seams on the padding create minor air channels but the ventilation is basically being provided by the mesh.
As mentioned before, there is a soft frame sheet inside the backside of the pack, keeping the shape and prohibiting angled objects to stick in your back. It is of the softer type though, therefore bending, when overpacking the pack. This is all due the lightweight design.
Additional features
Even though the pack is quite plain and minimalistic, it offers some well thought through features:
a) On both sides you will find elastic side pockets for canteens. Both have a drainage hole at the bottom.
b) On the left and the right side you will find two compression straps each. One with a buckle, and one with a glider buckle.
On the bottom of each side, there is a ski guide. If you are not carrying skis, you can use these as grabbing handles of course.
Talking about grabbing handles: The straps to close the top lid, go all the way to the bottom. Down there they each run through a glider buckle, creating a big loop. So you not only have enough length for the strap, you also have two additional grabbing handles.
Last but not least you can find two ice axe holders on the front side next to each other. Basically these are shock cords run through webbing with a very specific cord lock.
Hip belt
The pack has a basic, not detachable hip belt. On each side there is a padded wing with a row of webbing. That webbing exceeds the wings and meets in front with a sturdy buckle. For a pack that size, hip belts are always awkward, since they are never where they are supposed to be, but you can just fold them back and attach it on the front of the pack in reverse mode.
Manufacture
The manufacture of the pack is top notch, I really cannot complain. Everything is stitched neatly, the overall look is nice and clean and the materials speak for themselves. The IRR treated 500D Cordura is tough enough to stand everyday's tasks, the plastic hardware is sturdy and even the threads are rotproof.
The stress points at the straps and all over the pack are reinforced with bartack seams. Only the snow guard is stitched with a single seam. Only time will tell if that seam holds the tension of the guard being pulled tight continuously. So far it shows no wear.
Conclusion
I have to admit, the design of the pack is one of the older ones on the market. By now there are plenty of other packs out there with much more sophisticated back ventilation or crazy organizing features inside, but there is a reason while packs like the Sabre 30 never get old.
Their lightweight build up and the fact that they are following the KISS principle – Keep It Simple Stupid.
Especially the latter is something I have come to appreciate more and more in the last few months. I do not use MOLLE on packs, I often only use a third of all the organisation possibilities and I tend to think twice about taking some of my packs, because they are heavy.
The Sabre 30 is more often with me than one might think. It has enough room for a set of clothes and my camera, my Nalgene Canteen goes into the side and I am ready.
Some little details could use an update. A mounting option for water bladders would be an example. Other than that the Sabre 30 is a proven companion and a classic par excellence. I am glad the packs are available in new camouflage patterns like PenCott, Multicam and others.
With that being said I would like to thank Lawrence again for making this review possible. I hope you guys enjoyed it and I was able to give you a better look of the pack.
Until next time!
PS.: If you are interested in the KarrimorSF packs, check out http://www.pri-international.co.uk/