For 2018, Tasmanian Tiger will be introducing a smaller version of its Tac Case Messenger Bag: the Tac Case S. Considerably smaller in size it is a more compact companion for users who do not need to carry huge loads with them, but still insist on having the essentials at their disposal.
Being a model of the Tac Series, the bag combines military and civilian features, to offer the best of both worlds. I was able to get my hands on one of the models beforehand and want to share my experience with you guys. Hopefully this will help you with your personal decision, if this is something you want and/or need. First an overview and some basic facts:
Overview
The Tac Case S is a small messenger bag with 7l of volume. It has a main compartment with a padded laptop/netbook sleeve and a laser cut velcro panel on the inside, to attach the included document sleeve or optional MOLLE pouches. It features two zippers compartments to the front and back, as well as an additional pouch to the front with several admin features.
Other features include a carrying handle, a small pouch on the side for gps, phones, small cases; a hypalon padded pad for the shoulder strap and a webbing loop on the back to mount the bag on the dragging handles of your luggage, if necessary. Manufacture is top notch, as expected from Tasmanian Tiger.
---
Specs:
LxHxW: 33cm x 22cm x 12cm
Material: 700den Cordura, ykk zipper, WJ buckles
Weight: 965g
Volume: 7L
---
Main Compartment
The main compartment ist covered by a large flap, which is closed by two buckles plus dedicated velcro closures underneath.
Inside the main compartment you will find a laptop sleeve with a strap to secure your electronic device in it. The sleeve offers just enough space to fit a 13" laptop in it. It is padded to ensure enough protection from all sides.
To the front the main compartment features a laser cut hook velcro panel. Six channels offering two rows of MOLLE, give you plenty of options to mount either velcro based pouches or those using MOLLE for attachment.
With the bag comes a document sleeve/pouch, which has velcro on the back and which is mounted on the inside of the main compartment. This is a nice feature if you have a need for dedicated document storage. At the same time the front of this sleeve offers basic organisational pockets: a zippered pocket, three pen slots and an additional slot plus a transparent ID panel.
With a laptop inside the sleeve, the main compartment offers just enough room for my organiser and 1-2 other things. This is definitely not a shopping bag, but one that only transports your essentials. In case you have a long day in town, and pick things up during the day, you might run out of space.
On the other hand it was the perfect size for me and my camera. No laptop, my organizer, the Nikon and my purse – in case you wondered what else was in the main compartment during that photoshoot. 🙂
---
Front Compartment
The front compartment has three rows of webbing attached to its front, with four channels. Mounting a pouch here would not make much sense, since it would hinder the top lid from closing. It is however a perfect spot to transport chemlights and/or pens.
The compartment opens up two thirds and gives access to several organisational options: On the left you will find a pocket with a velcro flap and above it two slots which give you just enough space to put some business cards or similar sized items in it.
In the middle you will find elastic webbing forming loops. A bigger one for multi-tools or flashlights, and three smaller ones for pens, chemlights and the like. Next to it is another pocket with a velcro flap. This one is slightly larger than the other and offers enough place for a gps, a phone or an Israeli bandage.
Behind the loops and the pocket are two bigger slots which offer enough room for A6 sized notebooks and other slim items. Above the top slot you will also find a key hook.
---
Other pouches and pockets
As already mentioned in the overview section, the Tac Case S has two zippered pockets. Both are full length and can be found on the back and front.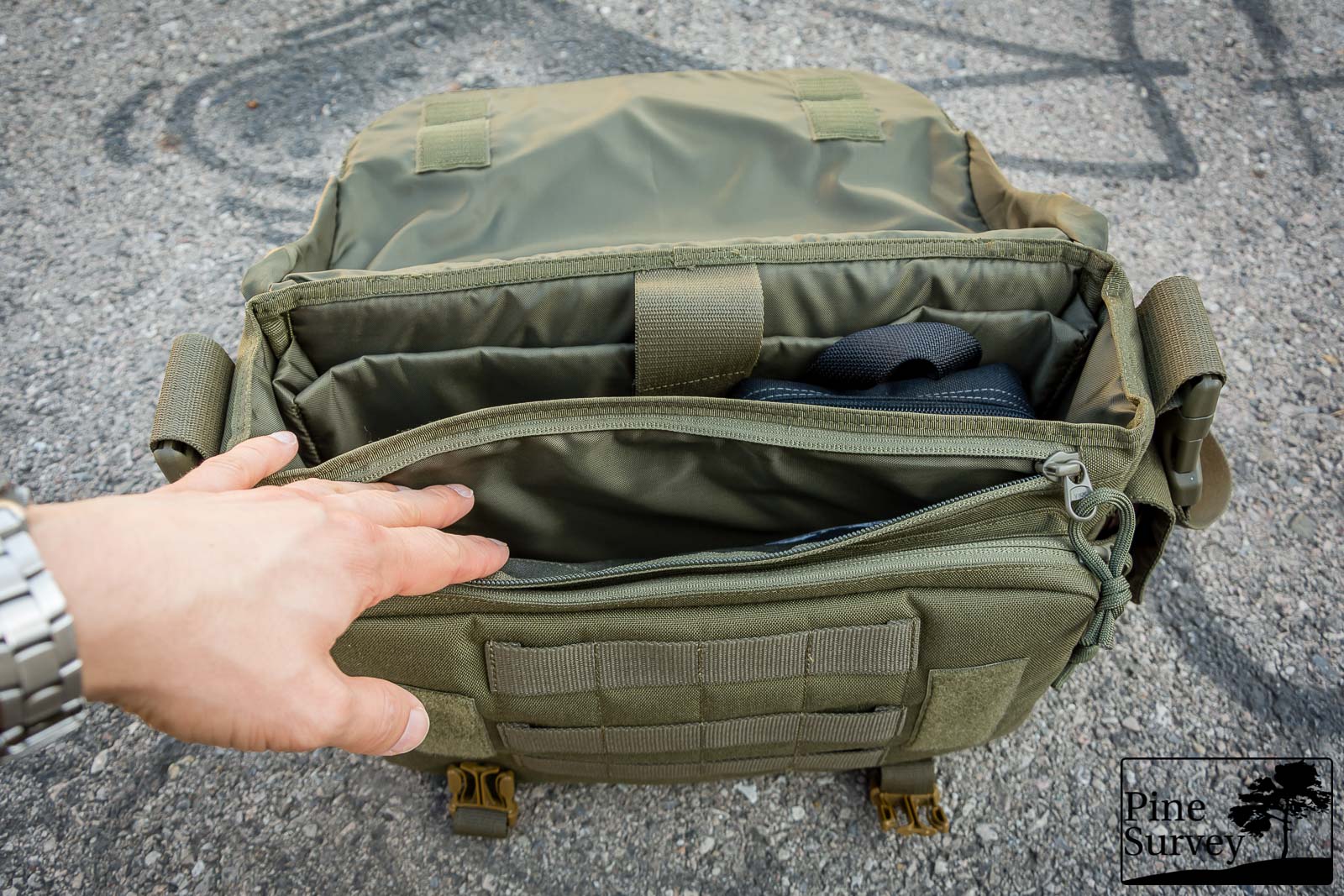 While they are not long enough to fit A4 sized documents, smaller items find plenty of space and the pocket on the back features velcro strips to fit in optional velcro accessoires.
Another pouch can be found on the side. This can be closed/opened with a velcro flap and offers enough room for a case of your sunglasses, a phone or gps. If you carry the Tac Case S on your right hand side, this pocket will ride to the front and give you quick access to whatever you are carrying inside.
---
Other features
The flap, which is covering the main compartment, features two channels of laser cut MOLLE on its front. Four slits per channel give you two workable MOLLE points, which you can either use for pouches (which would be a bit of an overkill) or – like me – for attaching shock cord to the front.
This way you are able to create additional carrying options for a light jacket or similar items, you might want to carry with you.
On the back you will also find one big strap, forming a large loop. This is a most welcome feature if you are traveling with a trolley and want to put the Tac Case S on top of it. With this loop you can fix the bag on the carrying handle of your luggage.
The bag also comes with a carrying handle, which is padded and tightly sewn on. The shoulder strap is mounted via two massive Woo Jin buckles. The shoulder pad is padded and comes with a rubberized hypalon area which prevents the pad and with it your bag to move around your shoulders. Everything will stay on its place.
The pad itself has a cut out in the middle, so if you adjust the shoulder strap in length and the glide buckle comes in your way, you can put it in between. It is also easily detachable by velcro closures, so there is no unnecessary fumbling involved.
---
Manufacture
Regarding manufacture I can only write and say what I always say. Quality control at Tasmanian Tiger is amazing, as is the workmanship. You won't find any loose threads, imperfections or quality issues with the Tac Case S. The one I got is in perfect shape and so far I did not have any major issues with any of my Tasmanian Tiger products – period. TT uses high end materials like Cordura brand Nylon, ykk zppers and Woo Jin buckles.
As comparison I also want to show you the Tac Case S and its bigger brother, the original Tac Case, so you get an idea about the size difference.
---
Conclusion
Coming to an end it is worth saying that Tasmanian Tiger did a great job widening their range of messenger bags. The Tac Case S is a great companion for users who only carry their essentials and don't need additional space for things that might add up throughout the day.
The padding is extensive and offers plenty of protection for electronic devices. The downside is, that the bag is a bit stiff and on the bulkier side. But since it is not that big in general, this does not result in an uncomfortable carrying experience.
Manufacture is amazing as always and the organisational options in the bag itself hold plenty of options to organize your EDC. Now I am only waiting for a Tac Case M, which would need my idea of the perfect size. A boy can dream.
With that being said I want to thank Tasmanian Tiger to give me the opportunity to do this review for you. I hope you guys enjoyed reading it and hopefully it was of some use for you.
Take care!