Review: Tasmanian Tiger Lens Bags
---
Introduction
Tasmanian Tiger offers several interesting solutions for camera accessories. Especially for lenses, they have a variety of differently sized pouches or bags. Readers of my blog will know that I already reviewed the TT Modular Lens Bag VL Insert M. In this review I will take a closer look at the Small version as well as another bag, aimed at Tele lenses – the TT Tele Lens Bag.
---
Overview
The TT Modular Lens Bag VL Insert S and the TT Tele Lens Bag are designed to hold and protect camera lenses in their respective sizes. Thick padding and velcro straps within the bags provide further length adjustments on the inside.
While the Modular Lens Bag can be mounted using velcro, the Tele Lens Bag is fitted with MOLLE on the backside. Made of 700d Cordura and other high quality materials, the manufacture of both is excellent.
---
TT Modular Lens Bag VL Insert S
---
---
Specs
HxWxD: 12cm x 9cm x 9cm (+/- 1cm)
Weight: 90g
Fabric: 700D Cordura
---
Build-up
Just like the Modular Lens Bag size "M" the "S" version is a nearly cylindrical pouch with a large velcro panel on the pack to mount it on the various loop velcro areas of pack or bag compartments. The panel measures 7cm x 14cm. This provides a strong attachment surface on said loop velcro areas. A small webbing strap at the bottom can be found here as well to help with detaching the bag.
---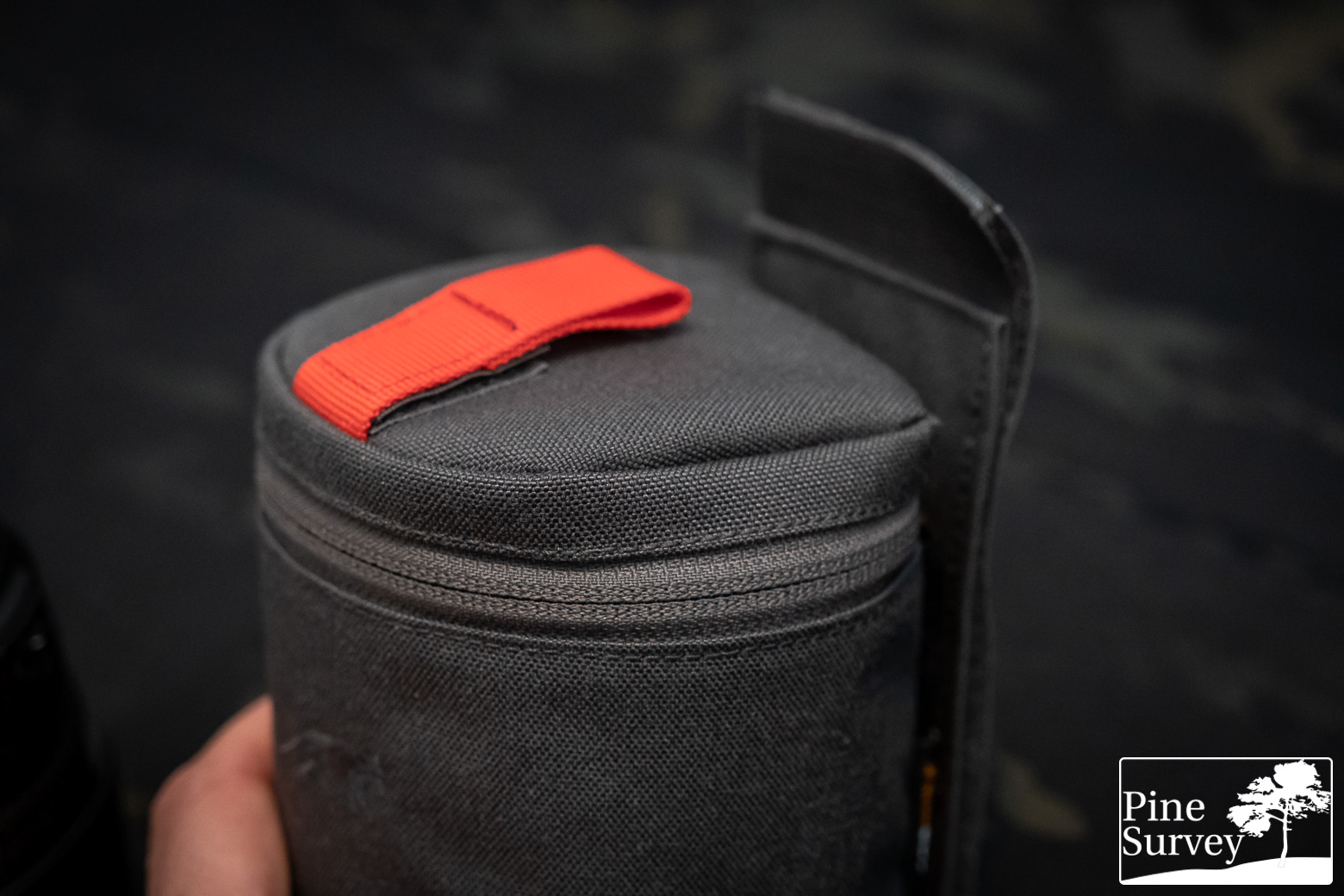 ---
The bag itself is heavily padded and features enough room for camera lenses with a diameter up to 75 mm and a length up to 12 mm, give or take. Both the inner front and backside of the pouch features loop velcro to adjust a separate velcro based strap. This helps adjusting the inside to the measurements of your lens.
---
---
A zipper provides a secure closure of the pouch. On the top lid is a red strap, which can be used to keep the lid open, using said velcro surfaces. When not in use, the same velcro surface tugs the strap down neatly.
---
---
TT Tele Lens Bag
---
---
Specs
HxWxD: 24 cm x 11,5 cm x 12 cm (+/- 1cm)
Weight: 180g
Fabric: 700D Cordura
---
Build-up
The TT Tele Lens Bag is a large clam-shell-like pouch for medium sized Tele lenses. According to Tasmanian Tiger it is suitable for lenses up to 100 mm in diameter and 245mm length. A two-way zipper opens 3/4 of the front and provides a large enough opening to put bigger lenses inside without a hassle.
---
---
A velcro based strap on the inside gives the user the option to adjust the fit to the size of the lens. Plenty of padding provides the necessary protection and a flexible fold to the front makes room for grips and mounts of larger lenses.
---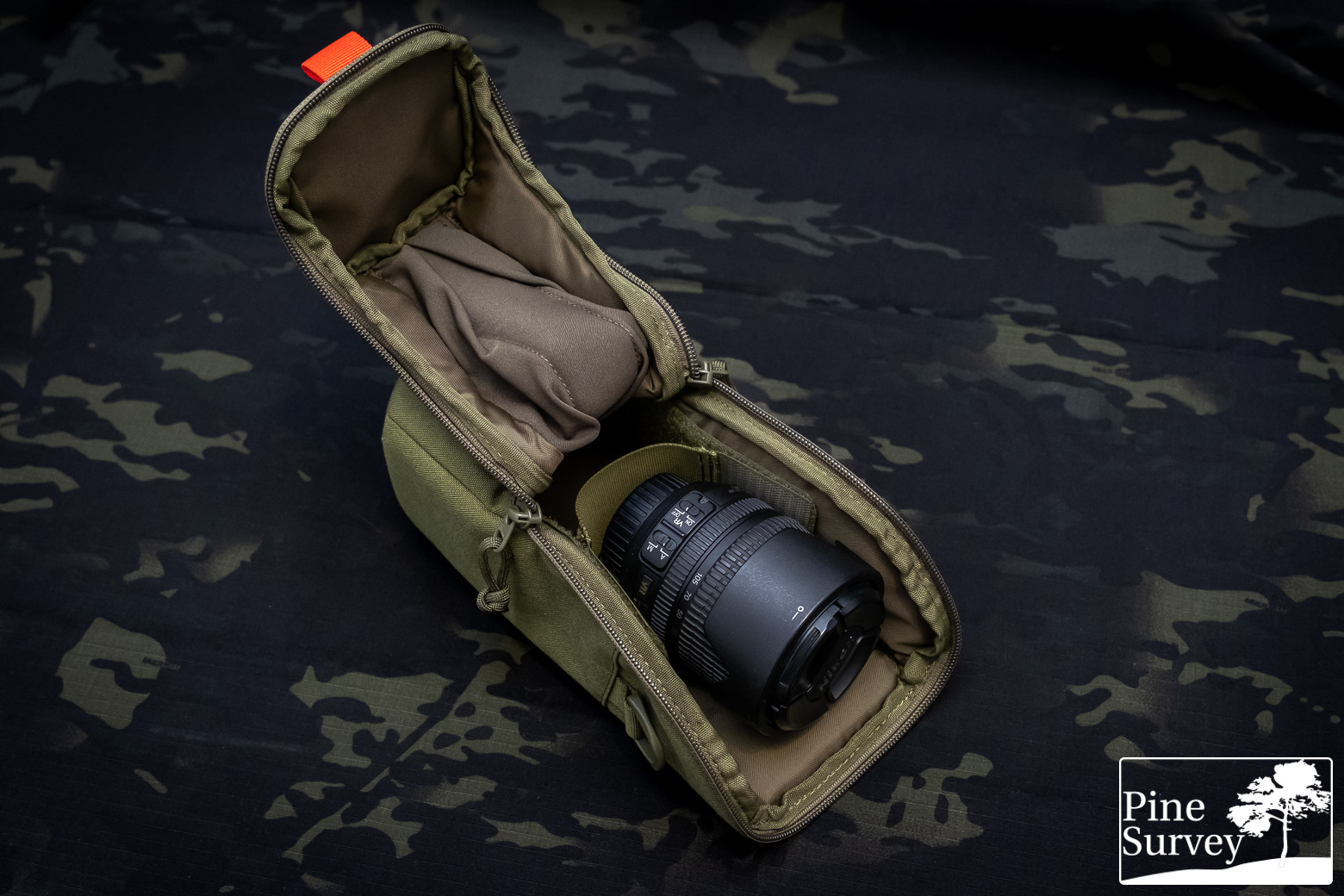 ---
On the backside channels of four webbing straps offer MOLLE compatible mounting options. Hypalon straps are sewn on and can be attached on the lower side under the webbing straps, using reinforced tabs.
---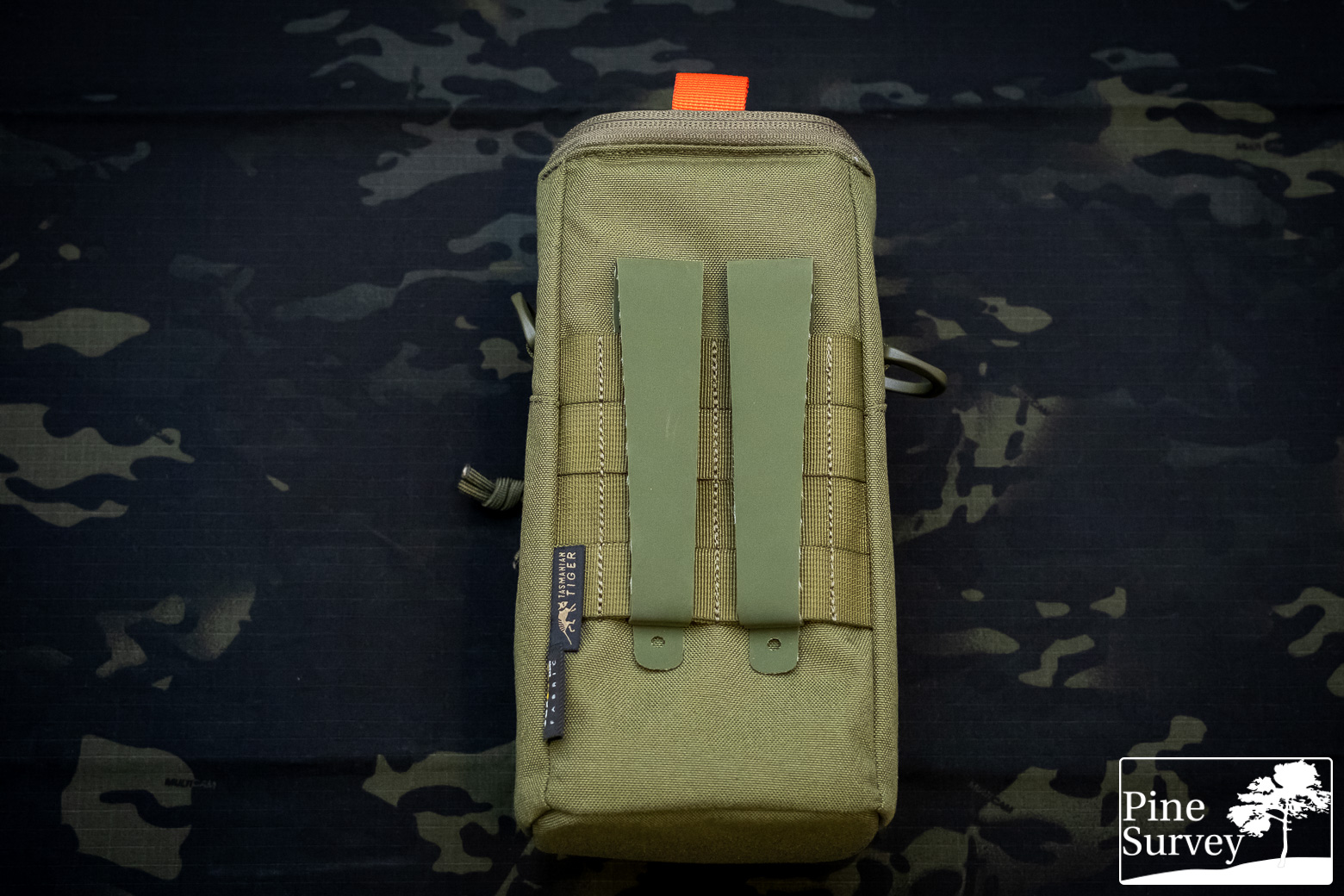 ---
Additionally one will find one D-Ring on the left and right side. Using these, one can attach a sling and run the bag solo anytime.
---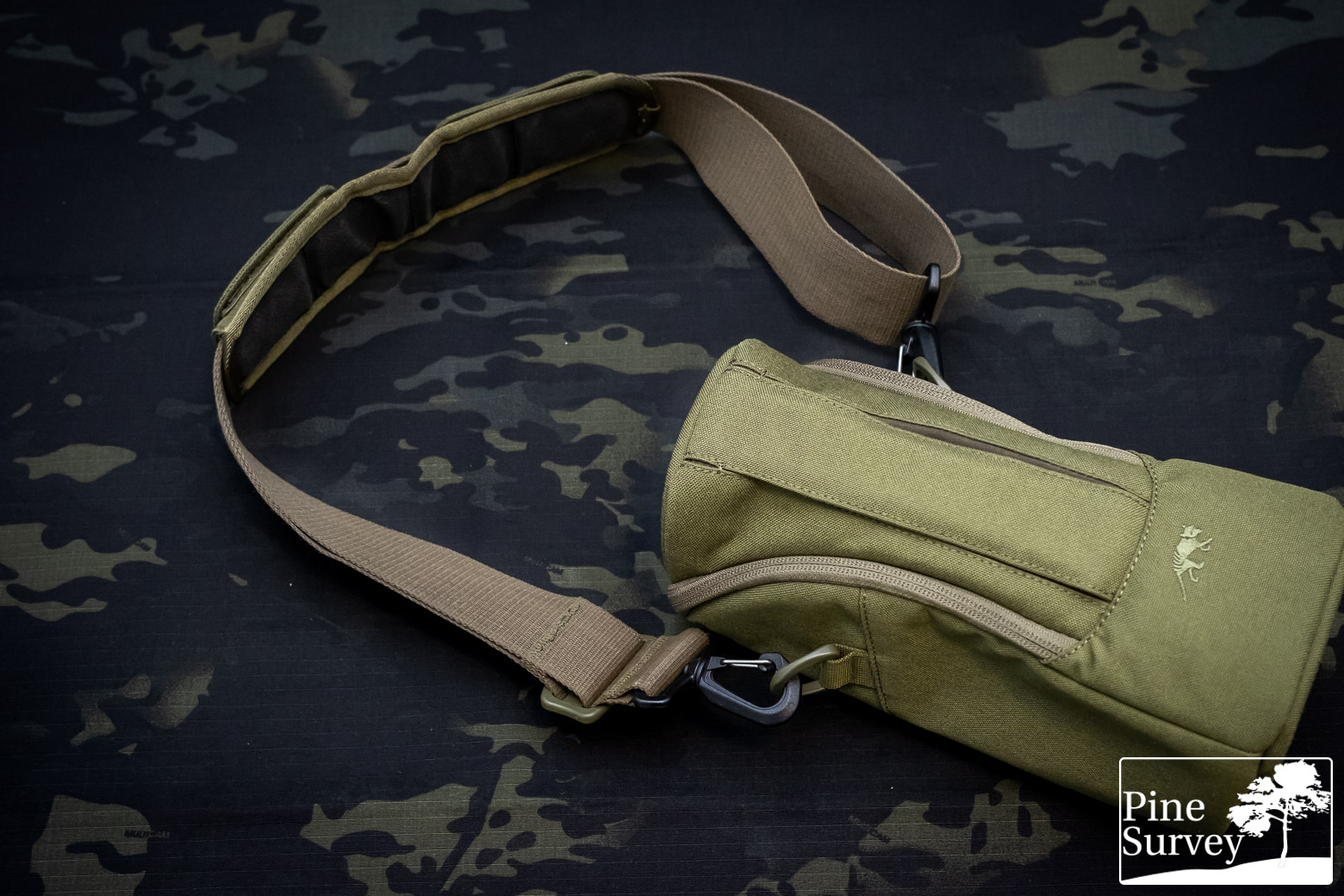 ---
Level of Manufacture
Both lens bags are manufactured very well and are made using premium materials. The seams are straight and tight, with no loose threads. When holding them, one immediately gets a feeling of high quality and the clean look does the rest.
So far I never had an issue with the products of Tasmanian Tiger. The two bags are no exception.
---
The lens bags in use
While the Modular Lens Bag VL S is sized perfectly to just drop it into a bag or attach it within one of my packs the Tele Lens is obviously a bit bigger to do so. As a result both pouches or bags saw different kinds of uses.
The Tele Lens Bag is extremely useful when carried with a sling. Even if you are not using a big Tele, the bag is a useful companion, as the lower part of the bag can also be used to store other accessories like batteries or even a smaller second lens. Obviously one can also mount it on the webbing of bags or packs – so far I haven't used it in that capacity however.
The small sized Modular Lens Bag is a padded tank to protect your lenses. As a matter of fact, the padding is so thick that some lenses are too wide to fit in, even though they could fit in length-wise.
Especially for smaller prime lenses this is a perfect pouch and accompanied me quite often. When doing so, I actually never used the velcro and just put it in my bag.
Both bags are also neat items to store your lenses when not in use. So this is an added benefit.
---
---
Conclusion
Tasmanian Tiger's camera accessories are surely fit for both the tactical and civilian world. High quality materials and manufacture in combination with clever designs, will serve professionals from both worlds well.
Especially when thick padding and modular mounting options are a big criterion, both the Modular Lens Bag VL S as well as the Tele Lens Bag are worth considering. Protecting lenses is always a priority in photography. Tasmanian Tiger offers this protection with its lens bags.
With that being said, I hope I was able to be a bit of help when looking for the right lens bag/pouch. Many thanks to Tasmanian Tiger for making this review possible!
Take care!
---
As always please consider supporting the blog using the donate button below!
---