Slowly coming to an end to the Tourniquet Tuesday series, my dear friend and Pine Survey Contributor Alzwolf will give you his take on the the SWAT-T.
---
SWAT-T™ SWAT-TOURNIQUET™ TACTICAL TOURNIQUET
http://www.swattourniquet.com/
---
Introduction
A multi-purpose tourniquet and trauma care device. The SWAT-T ™ is an innovation from the USA and I am pleased to introduce this product to you.
The term SWAT-T ™ does not stand for Special Weapons and Tactics Tourniquet, but is a catchy wordplay for Stretch-Wrap-and-Tuck Tourniquet.
No mechanical parts, no complicated operation. The instructions are printed on the tourniquet and are practically self-explanatory. Low pain due to the particularly wide ligament bandage. It is also usable as pressure bandage. As a result it is used by many people as a pressure bandage, general-purpose wrap, primary and/or back-up tourniquet.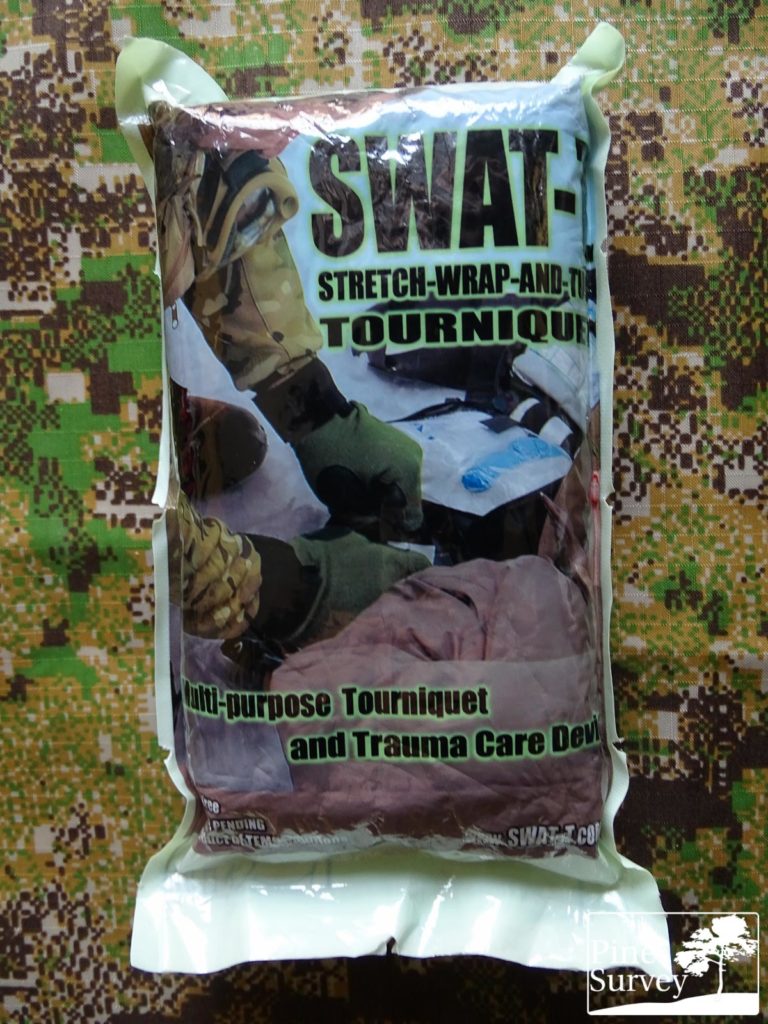 ---
Specs
Dimensions open: 158 x 10,3 cm
Dimensions packed: 11 x 6 x 2 cm
Weight: 130 g
---
The SWAT-T ™  tourniquet is latex-free and easy to put on. Due to the extremely small packing size and the low price the TQs can be kept everywhere, even in larger quantities. Thus, for example, even in rescue teams, the tourniquet can be added to the group's equipment, as well as severe bleeding can be stopped with very little time overhead already in the initial review (in the context of triage).
The big advantage compared to other, conventional tourniquets lies for example in the good applicability in the groin and armpit area. The SWAT-T ™ tourniquet can do even more! Conventional tourniquets often reach their limits with petite persons, women and especially children as well as animals (service dog, horse). The SWAT-T ™ also works reliably here. In addition to being used as a tourniquet for ligation of severely bleeding extremities, you can also use the SWAT-T ™ as a compression bandage, for fixation of splints (e.g. E-bone splint, etc.), for immobilization of extremities, as "shock trousers" help with complicated venipuncture, and much more. Even in the technical assistance, the SWAT-T ™ knows how to convince. Joining, fixing, sealing and more.
Since no metal parts or other mechanical elements are being used, it is also safe in EOD relevant environments.
---
Use as a tourniquet
Stretch / pull for tourniquet space over the wound (between wound and heart). Wrap them around and make sure that ovals / rectangles change to circles / squares. And tuck. (Schedule the tuck for the best results).
For most patients, tourniquets have proven to be safe for at least two hours. Used properly, all tourniquets can cause limb loss. This is a necessary risk to bring our patients home at the end of the day.
---
Use as a pressure bandage
Wrap the SWAT-T ™ over the hemostatic agent or sterile dressing and stow or glue the end to maintain pressure and prevent further contamination and bleeding.
When the endpoints on the bandage are reached, you can have a tourniquet and test for good blood return in the limb (pulse and capillary refill) or you risk the complications associated with all tourniquets. Pressure bandages should remain in place until definitive wound treatment can be performed.
---
Use as a bandage
The SWAT-T ™  can be used to fix ice packs for cooling on a sprained ankle or knee. The SWAT-T ™ can be used to attach a limb to the body, the other leg, or to a rigid object for immobilization. The bandage can also be used to distribute pressure on the chest or abdomen. This can be used to close and protect wounds, to contain abdominal contents during removal, or to help stabilize the pelvis in case of blunt pelvic trauma.
---
Conclusion
The SWAT-T ™  is light, small and compact. Therefore a plus point for concealed carrying. Back Up in the Frog.Pro SF Responder.  As a pure tourniquet, I use it only as a first responder on other people under the application with two hands. The application with one hand takes me too long and I'm not familiar enough. I'm running it as a back-up with me in my Medi-Pack. It is mainly used to secure bandages, to stabilize sprained ankles or knees or to take care of my dog.
---
A great addition to the personal gear. Thank you for your attention.
Take care!